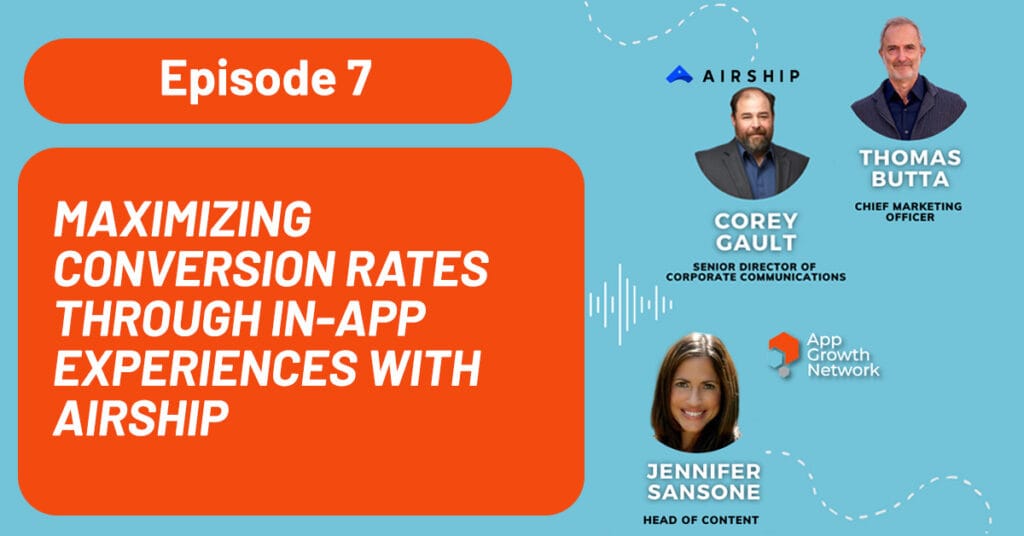 Episode 7: Airship
Hey, App Growth Community! Welcome back to the App Growth Show, where we host mobile experts to provide valuable and actionable insights on how you can grow your app. No matter where you are in your app growth journey, we are able to help you achieve your mobile growth goals.
In today's episode, we are in conversation with two special guests Thomas Butta, Chief Marketing Officer and Corey Gault, Senior Director of Corporate Communications at Airship. A platform that does it all, Airship offers lifecycle solutions to help you not only maximize your conversion rates but also help you acquire, retain and grow your customer base.
Our lovely host Jennifer Sansone, Head of Content at App Growth Network asks some intriguing questions to our guests who share many treasured insights that can help you maximize the conversion rates of your app through in-app experiences. Additionally, our host takes a deeper dive into their recently published survey that's built on the experience of 9,000 global consumers, providing a guide for companies to gain greater value and enhance the customer experience.
Listen to our episode and learn how Airship through its services can help your businesses grow through their open channel API that powers trillions of app interactions through customer engagement, lifecycle marketing, analytics and data solutions.
Chat More With Our Speakers From Today:
Feel free to browse through our episodes and have a listen to one (or all!) of our talks about the many facets of what it takes to achieve mobile app success, from user acquisition to retention strategies and beyond.
Subscribe now to AGN Podcast to gain insight on the latest app growth strategies and secrets at your preferred podcast directory:
Want to chat with our team of experts today to supercharge your app growth? Book a call with us here!