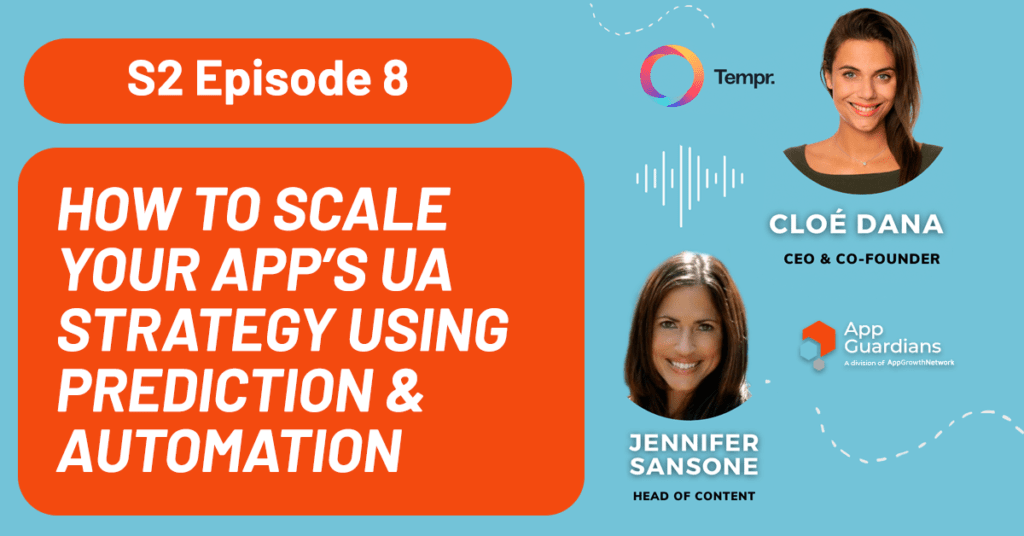 Season 2: Episode 8: How To Scale Your App's UA Strategy Using Prediction & Automation
Hey, App Growth Community! Welcome back to the App Growth Show, where we host mobile experts to provide valuable and actionable insights on how you can grow your app. No matter where you are in your app growth journey, we are able to help you achieve your mobile growth goals.
Today we are so excited to be joined by Cloé Dana, the CEO & Co-founder of Tempr. Cloé's track record truly speaks for itself, and we are honored to be joined by such a leader in our industry. As one of the major accomplishments in her life, Cloé has been nominated by Forbes as one of the 30 Under 30. With over a decade of experience in the advertising and marketing world, Cloé shares with us the importance of prediction and automation.
Tempr is a global SaaS company that maximizes mobile marketers' revenue and saves their time with the help of its prediction and automation technology. Tempr aggregates data from mobile marketing channels through APIs and generates accurate revenue predictions using AI. The platform recommends the ideal budget & bid based on its predictions, which can all be pushed directly into the various marketing channels with just a click of a button.
Get inspired by her take on the future of UA, and women in tech, and discover how you can scale your app's user acquisition strategy.
Watch on YouTube
Audio Version
The App Growth Show is sponsored by the App Guardians– the Marketing Agency Division of App Growth Network; we're an award-winning app marketing agency based in North America made up of a team of mobile experts that help apps scale their business with customized app marketing strategies. If you are interested to learn more about how you can grow with us, book a free call with us here to start supercharging your mobile growth today!
Chat More With Our Speakers From Today:
Feel free to browse through our episodes and have a listen to one (or all!) of our talks about the many facets of what it takes to achieve mobile app success, from user acquisition to retention strategies and beyond.
Subscribe now to AGN Podcast to gain insight on the latest app growth strategies and secrets at your preferred podcast directory:
Want to chat with our team of experts today to supercharge your app growth? Book a call with us here!