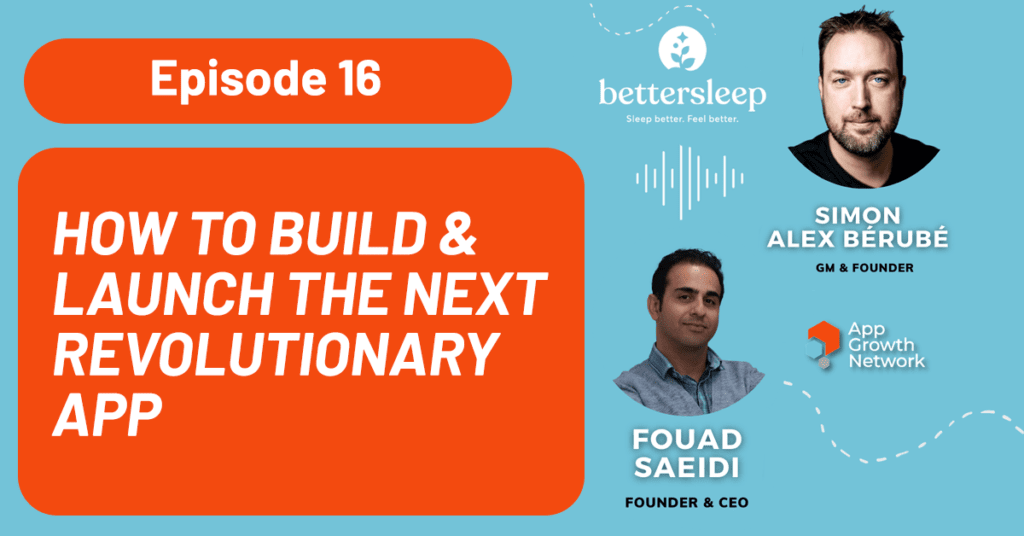 Episode 16: How to Build & Launch The Next Revolutionary App
Hey, App Growth Community! Welcome back to the App Growth Show, where we host mobile experts to provide valuable and actionable insights on how you can grow your app. No matter where you are in your app growth journey, we are able to help you achieve your mobile growth goals.
Simon is the CEO and Founder of Ipnos as well as the general manager and founder of Better Sleep. Formerly known as relax melodies. Better Sleep is one of the top sleep meditation apps in the world. Simon led this company to tremendous success and constant growth for 13 years before recently selling it to Teladoc. Simon now spends his time developing new ideas, angel investing, mentoring and assisting other startups in their growth.
Simon is a seasoned industry professional who has seen it all. He's co-founded apps, launched apps, hired employees, experienced phenomenal success, exited successfully and is now investing and helping others with their businesses.
Prepare for an engaging discussion about Simon's journey from an engineer to an entrepreneur as well as some of the crucial steps he took that led to better sleep's rapid growth and success within the health and fitness vertical.
Tune right into the episode to uncover how to build & launch the next revolutionary app.
The App Growth Show is sponsored by the App Growth Network, we are an award-winning North American app marketing agency. If you are interested to learn more about how you can grow with us, book a free call with us here to start supercharging your mobile growth today!
Chat More With Our Speakers From Today:
Feel free to browse through our episodes and have a listen to one (or all!) of our talks about the many facets of what it takes to achieve mobile app success, from user acquisition to retention strategies and beyond.
Subscribe now to AGN Podcast to gain insight on the latest app growth strategies and secrets at your preferred podcast directory:
Want to chat with our team of experts today to supercharge your app growth? Book a call with us here!