Why ASO? Best ASO Practices for Apps
Why ASO?
Saying that the app market is one of the most crowded and competitive spaces in the world is hardly an exaggeration. The numbers speak for themselves – there are 2.2 million apps on the Apple App Store and 2.8 million apps on the Google App Store. And, according to Apple, 65% of downloads come from app search queries, making in-app search a critical channel for conversion.
That's why an in-app store acquisition tactic, like App Store Optimization, is so important. If done correctly, ASO is a powerful growth tool. By improving your app's visibility in the app stores, you greatly increase your chances of attracting the quality users you need for long-term success.
Take the example of an ASO strategy we developed for our client, Ninja Number. By increasing the density of certain keywords and replacing low-traffic keywords with others that showed more potential, the app got a 300% increase in organic downloads within a 3-month time period.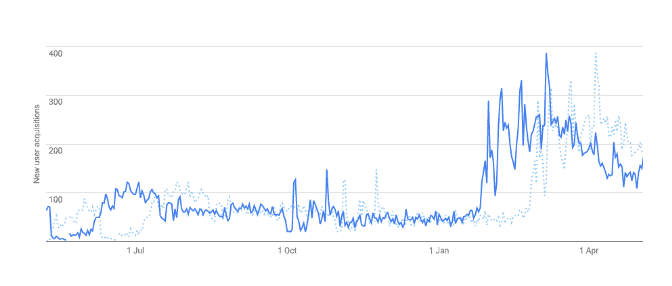 Plus, there's the advantage of simple cost savings. ASO is about increasing your app's organic growth, meaning, it's free! By mastering ASO, you'll not only get reliable, steady growth but you'll be cutting user acquisition costs.
But ASO is not an instantaneous, one-and-done strategy. Effective App Store Optimization requires special attention for Apple App Store and Google Play Store separately – as each has its own rules. It also requires staying power, monitoring, tweaking and testing, testing, testing!
What are ASO Best Practices?
So now let's get into the nitty-gritty of how to do effective ASO…
Whats in this article
1. Have an ASO strategy
First off, always do your market research. Know who your target users are, what they search for, what language they speak, what other apps they search for, etc.
Also make sure you know what your app positioning is for your mobile app category. Do thorough research on your competitors and know their positioning, messaging, creatives and the keywords they target. Before tackling anything else on the list, make sure that your strategy is solid.
2. Do keyword research
The visibility of an app depends greatly on Keyword Optimization. You want to research what the right keywords are because those are the words that people use to find the apps they're looking for – and you want to include the most relevant ones in your app's metadata to increase rankings and visibility.
The Keyword Optimization cycle has 3 main steps: 1) finding keywords, 2) selecting and narrowing down your keyword list, and 3) testing those keywords.
Remember that your app will be evolving and constantly changing to reach new potential users and markets – plus new competing apps that enter the game – which means that keywords also need to be consistently reviewed and optimized in order to stay at the top. So, consider the Keyword Optimization cycle as a continuous process that needs close attention.
We highly recommend using an ASO tool when doing your keyword research to help you identify the most relevant keywords and perhaps untapped ones that have great potential.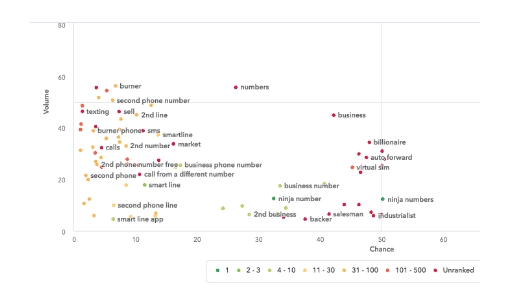 Read our Best ASO Tools 2020 picks for a breakdown of our favorites.
3. Pick an optimal app name
The first thing people see is an app's name. You can have the most creative app name but if users can't remember it – or if it's not relevant to what your app is about – you won't have much success. Make sure it's simple and memorable.
Keep in mind that keywords that are part of the app name have the strongest app ranking weight! You have a 50-character limit for Google Play and 30-character count for the Apple App Store, so take full advantage of this space. One way to include keywords in the app title is to include them as a short description after the main title.
Sweet Pea, a dating app, includes the keywords "conversation" and "dates" in its title:

4. Write a well-planned app description
A strategically written description is especially important for Google Play Store apps because it's one of the main areas that Google uses to find the keywords it will rank your app for. So, carefully placed keywords with enough frequency within the 4,000 character-count space will go a long way for your ASO efforts – just be careful to avoid keyword "stuffing"!
The app description for iOS apps in the App Store is not as relevant in terms of ASO because it doesn't index the keywords placed there – but it still supplies valuable information about what your app is about to an interested potential user. Be sure to capture the most essential and compelling elements of your app within the first couple lines, as this is what most users will read before deciding to install or not.
5. Optimize conversions with a tested icon, app screenshots & video
Conversion Optimization is accomplished by optimizing the creative assets on your app's page. Your app's creatives give you the chance to visually "sell" the best of your product to a potential user. A picture's worth a thousand words, right?
An app's creative assets include the icon, screenshots, and the video (if there is one). When scanning the results of a keyword query, users will decide within the first 2-3 seconds whether to tap on your app for more information simply by looking at the icon and screenshots. That's why these creatives must be tested and optimized to be attention-grabbing and reflect the best functionalities of your app.
It's always recommended to run A/B tests. For your icon, you can run an A/B test of two different color schemes to see which one gets more clicks. It's less about what you think will work better but what your target shows you works better.
For a self-improvement app client, HiMoment, we tested versions of icons using a new character versus the current one that had no character:

As it turns out, the happy character connected best with users. The results of install performance increased by 26.6% when compared to no character icon and the icon was replaced accordingly.
A well-made app preview videos can also have effective conversion capability. There isn't a one-size-fits-all rule for your video, but researching your competitors' creative strategy helps to guide ideas for your own app.
6. Collect re

views & ratings
Reviews and ratings are excellent indicators of how an app is doing and reflect the overall satisfaction level of its current users. Not only that but relevancy matters to the app stores. The better the rating, the more relevant the app is considered and the higher it will rank.
You can encourage reviews and ratings through strategic means, like with well-placed in-app notifications. Just be sure that this is done at a positive, opportune time that doesn't interrupt or annoy a user. For a game, this could be after the successful completion of a level and not in the middle of gameplay.
7. Localize your app listing
For apps who want to go international, localizing your app is a must. This means not only translating the language but making any adjustments necessary to make the listing appealing to different cultures.
Localization allows you to increase your app store search visibility and expand its reach. The broader the audience to which your app is presented, the greater the leads are for more downloads.
Also, if you want to increase the size of your keyword list, read about how you can more than double your ASO keyword list with this localization hack.
Summary
For any app that needs to compete with others for visibility in the app stores, App Store Optimization is a must.
Best practices for effective ASO include:
Having a solid ASO strategy

Doing extensive (and ongoing) keyword research

Picking the right app name

Writing a well-planned app description with relevant keywords

Optimizing creative assets like the icon, screenshots and video

Collecting review and ratings

Localizing your app listing for global markets
Related Articles
In today's competitive app market, it's crucial for app developers and marketers to reach a wider audience and [...]

WidgetKit was introduced in WWDC22 as a new way to showcase app activity. Anyone who's bought an iPhone [...]