How to Leverage Custom Product Pages to Boost ASO & Paid UA Performance
It's no secret that app marketers are thrilled about the arrival of the App Store's custom product pages (CPPs) because of what it means for ASO and paid UA performance, like Apple Search Ads.
So, what does it mean for ASO and paid UA?
With the introduction of CPPs, app marketers are now able to direct specific audiences to relevant, customized product pages—instead of the generic default product page—that target their specific interests and, ultimately, boost user acquisition performance.
We know that personalization is always better when it comes to acquiring users, so the custom product pages feature is certainly one you'll want to take advantage of in your own marketing efforts.
Now let's talk more about how you can leverage CPPs to improve your mobile app's ASO, ASA, and other paid UA channel performance.
What are custom product pages?
With CPPs, developers now can create up to 35 different versions of an App Product Page to highlight different features or content within an app. This allows brands to target specific audiences with alternate versions of app creatives and promotional text to improve user experience and conversion rates.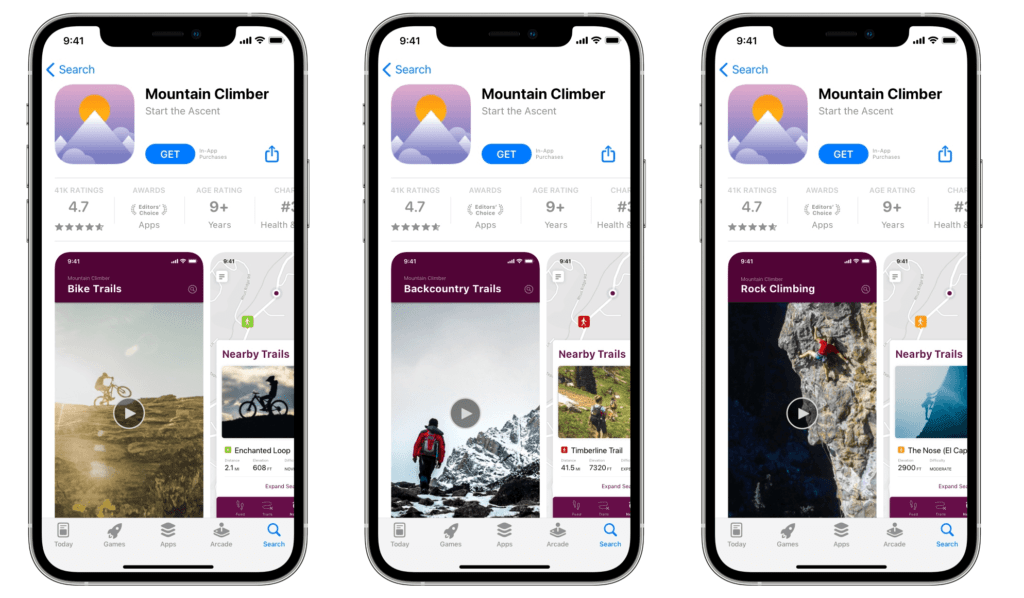 Each page is localizable and generates a unique URL which can be used throughout marketing efforts such as paid UA, outreach campaigns, and social posts.
For example, let's say you have a health & fitness app.
In the pre-CPP era, everyone who clicked on your ASA ad would be directed to the same default product page, which most likely highlighted many different workout types for a wide cross-section of users.
With the custom product pages feature, you can customize the user acquisition journey by leading wellness users to a page that showcases meditation or yoga, while users seeking daily workouts would be directed to a page that showcased HIIT or toning bodyweight workouts that are available on the app .

How can custom product pages be used?
The great thing about custom product pages is that developers can use them in many different ways. With 35 possible variation to work with, CPPs can be used to highlight:
Features and benefits

This will be valuable for apps or games that offer multiple features as CPPs will direct target users to the page that highlights how the app will serve their specific needs.

Content preferences

Apps which host a wide variety of content will be able to use CPPs to promote specific content to target audiences based on their preferences.

Promotions

Apps or games that run discount campaigns or other promotions will be able to use CPPs to maximise the number of downloads while avoiding audiences for which they are ineligible.

Source or medium

Unique creatives and messaging through CPPs can be used to drive downloads from users who were directed to the app store page through a specific medium or help brands increase the impact of influencer campaigns which were used to drive awareness around the app.
How can you use CPPs in Apple Search Ads (ASA) to improve your ASO?
With ASA, the performance of non-branded terms is challenging for most apps due to lower relevancy compared to brand keywords.
Because custom product pages will make ads more relevant to user searches, the improved alignment between the ad and the traffic attracted by non-branded terms should result in a higher tap-through rate (TTR) and conversion rate (CR) for those keywords.
Improved performance for these keywords will allow you to bid higher and be more competitive in auctions, which will in turn help you acquire a higher impression share and increase the scale of those keywords.
Because CPPs won't allow you to edit an app's metadata, it will not directly impact the app's indexation. However, through the right use of CPPs—as specific keyword conversion rates improve—so will organic keyword rankings through the Apple ranking algorithm.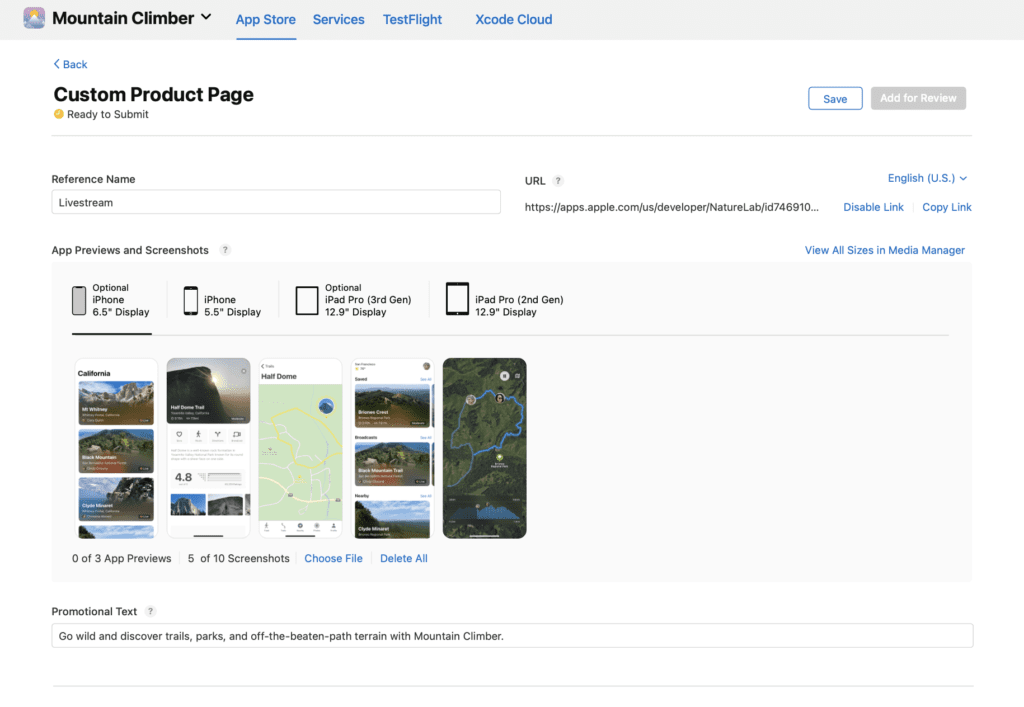 How can you leverage CPPs for other paid UA channels?
Through App Store Connect, developers will be able to measure key metrics such as user engagement, retention, and ARPU. This will provide the data you need in order to make better UA decisions.
For example, by understanding which users drive the most value, marketers can create tailored creatives and messaging which will help boost retention and click through rate.
In other words, custom product pages are not only optimizable at the app store conversion level, but also for retention efforts or driving revenue through subscriptions and purchases.
Conversion rate is largely impacted by how close the messaging on an ad is to the messaging on the App Store product page. The use of CPP unique URLs can help create the optimal funnel for specific audiences so that paid social advertising channels like TikTok, Facebook, and Instagram can deliver the right message to the right audience.
For Apple Search Ads, you can integrate custom product pages at the ad group level. This means that the app previews a specific user sees in the App Store ad will also be customized. With a more relevant view of the app from the get-go, users are much more likely to click through for more.
Final Thoughts
When it comes to marketing—or any sort of user acquisition efforts—the more personalized and targeted you can be, the better!
Custom product pages open the door to many customization opportunities that have yet to be fully discovered. But one thing's for sure, you'll want to start taking advantage of them and discovering the impact they can have for you.
If you'd like to partner up with mobile growth experts to answer any of your questions or help you get started, don't hesitate to get in touch!
Related Articles
When it comes to building an outstanding mobile-first advertising strategy, there are several directions you can take. Two [...]

Want to Extend the Life of Your Winning TikTok Creatives? Apply the 80/20 Rule TikTok has become the [...]