Apple Search Ads for the Paid UA Win! Is Your App in the Game?
The proof is clear: Apple Search Ads is blowing everyone out of the water in the paid user acquisition game.
The Financial Times reports that Apple Search ads is responsible for 58% of all iPhone app downloads. This is a staggering leap compared to the 17% share it had just one year ago.
The reality is that other major advertisers—Facebook, Google, Twitter, Yahoo—have taken a great hit from the iOS14 privacy updates that opts users out of advertising tracking by default.
For now, Apple Search Ads is as attractive as mobile advertising can get in the current state of the industry. Apparently, everyone agrees, given that Apple's mobile app advertising share increased threefold in half a year.
So, if you're not investing in ASA as part of your mobile app's paid UA strategy, you need to be.
And, if you are running ASA, competition is only getting more fast and furious every minute, so your ASA campaigns need to be rock-solid.
Is your Apple Search Ads campaign the best it can be?
There are a few questions you need to ask yourself to evaluate if you're using Apple Search Ads to its full potential.
Is your account structure utilizing all campaign types effectively? (Generic, Brand, Competitor, Discovery)

Have you included the best and most relevant keywords in your search terms (in addition to adding the right ones to your negative keyword list)?

Are you campaigns split by category for more effective reporting and optimization?

Are ad groups set up the right way for proper evaluation, like by customer type?

Do you have automation in place?

Are you analyzing data from an analytics tool to evaluate the ROAS of keywords?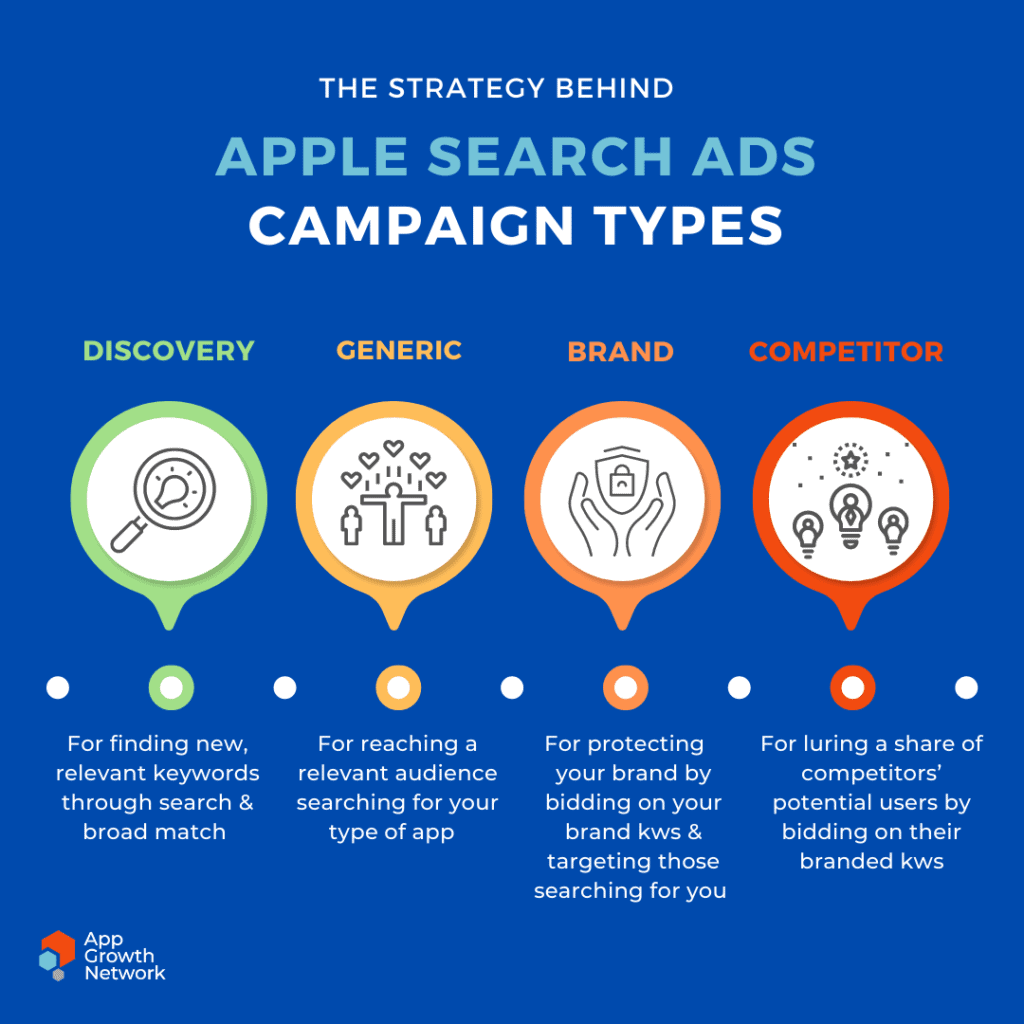 An example of an Apple Search Ads Audit: "
HealthyEats"
As an experienced app marketing agency, we pride ourselves on setting up the most effective ASA campaigns that are optimized to deliver results. This isn't easy, as it requires time, diligent monitoring and ASA strategy know-how.
If a client has Apple Search Ads in place, the first thing we do is conduct a full ASA audit that includes looking at campaign structure, analyzing key metrics to gauge past performance of specific keywords, and how effectively the budget was managed in order to optimize spend and scale campaigns.
Let us give you an example for a health food app—let's call it HealthyEats.
---



HealthyEats Account Structure Analysis
What we found:
Healthy Eats' ASA campaign was only using Discovery campaigns
Recommendation:
Set up account structure using Generic, Brand, Competitor and Discover campaigns
---
HealthyEats Campaign Analysis
What we found:
Many keywords with potential were added to the negative keyword list

Campaigns were split by categories but weren't meeting daily caps
Recommendation

:
Move appropriate keywords from negative list as an exact match to a relevant campaign (e.g., move 'paleo diet' to a Generic campaign)

Increase keyword bids in categories that weren't spending the daily caps to improve visibility
---
HealthyEats Ad Group Analysis
What we found:
Ad groups were split between "no keywords" and "broad keywords"

Customer type identified as "all users"
Recommendation:
Merge the two types of ad groups—splitting between "no keywords" and "broad keywords" used to be a best practice but we've seen a bigger impact for higher reach and optimization when they're merged

Split "all users" into "new users" and "users that have downloaded the app" for better reporting
---
HealthyEats Keyword Analysis
What we found:
Keyword search type included

broad match

keywords only

Impression ratio was zero—353 keywords had zero impressions, only 43 keywords had impression greater than zero (less than 10%)

Lower than average Tap-Through Rate—TTR was 2.9% which is significantly lower than the 8-9% average TTR across similar categories
Recommendation:
Keep

broad match

for Discovery campaigns only and assign all keywords in other campaigns as

exact match

—splitting them up allows us for continued mining of new keywords while also managing spend effectively (no money wasted searching for both)

Increase impression ratio by

increasing the bids

on keywords with no impressions by 10% daily with a max bid cap and

increasing app relevancy

by updating the app store listing with more relevant keywords (e.g. expand the product page long description)

Improve TTR with

creative testing

by updating the screenshot to match the category (e.g. diet – show a keyword diet in the second screenshots)

To improve overall Conversion Rate (CR), focus on app ratings and reviews and implement high-performing keywords into ASO to increase growth and ranking
---
Other options for scaling and optimization
1. Continue updating the keyword list
Keep up with keyword research to make continual updates to the list based on trends in the category/user interests/high-performing keywords from organic rankings, etc.
2. Automate campaigns
Our automation process focuses on increasing impressions and tap-through-rate in order to drive installs
3. Check keywords' ROAS
Analyze the data from your data analytics tools for any LAT and ATT users; cross-reference the numbers with App Store Connect revenue data
---
Achievable results from optimized Apple Search Ads campaigns
If this seems like a lot to keep track of, that's because it can be—especially if you have an app that needs to scale quickly within a limited time frame, such as with seasonal apps.
With proper attention, monitoring and automation, apps can achieve significant results with Apple Search Ads in less than 60 days.
Here are some results our Health & Fitness app client received within 90 days of our experienced team taking over their Apple Search Ads paid UA campaign:
30% increase in Tap-Through-Rate (TTR)

30% increase in Conversion Rate (CR)

37% decrease in Cost Per Acquisition (CPA)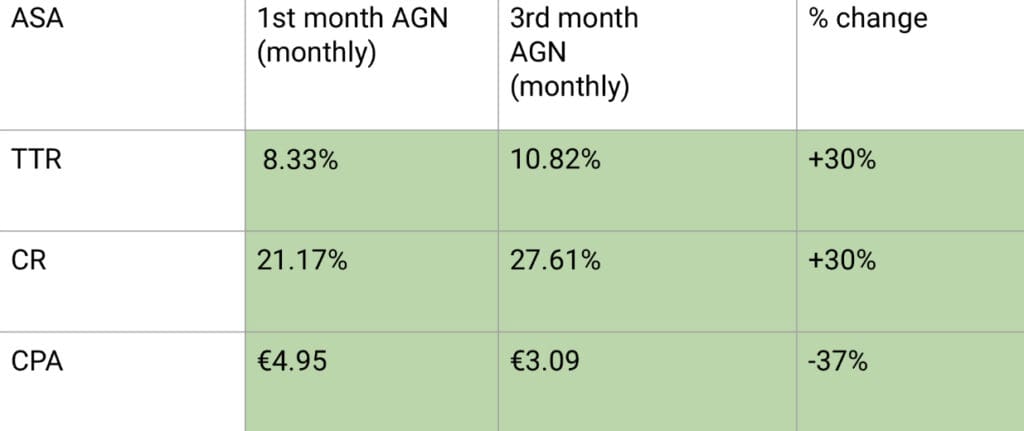 Could your app benefit from a boost with Apple Search Ads?
So many apps out there certainly are—including your competitors.
If you have significant app growth goals, Apple Search Ads is the most intent-based—and now the most reliable—paid user acquisition channel out there. If you're already dabbling in ASA, you'll benefit from a thorough Apple Search Ads audit to help you identify missed opportunities.
Contact our team of experienced professionals for an app audit or take advantage of our special done-for-you Apple Search Ads automation set-up and account monitoring.
Related Articles
In today's competitive app market, it's crucial for app developers and marketers to reach a wider audience and [...]

WidgetKit was introduced in WWDC22 as a new way to showcase app activity. Anyone who's bought an iPhone [...]