Boost App Results by Synching Your ASO & ASA Efforts
When it comes to organic user acquisition, all mobile industry experts agree that App Store Optimization is not just important, it's vital to your overall mobile app marketing strategy success. 
And if you have an iOS app on the App Store, experts also agree that Apple Search Ads is one of the smartest moves you can make as part of your paid user acquisition strategy.
But if you really want to get the biggest bang for your buck, the best thing you can do is synchronize your ASO and ASA efforts and make them work together to achieve maximum results.
Here we'll summarize the main points of our webinar with Mobile Action, "Essential Apple Search Ads Strategies to Optimize Your Ads" and cover this topic in detail.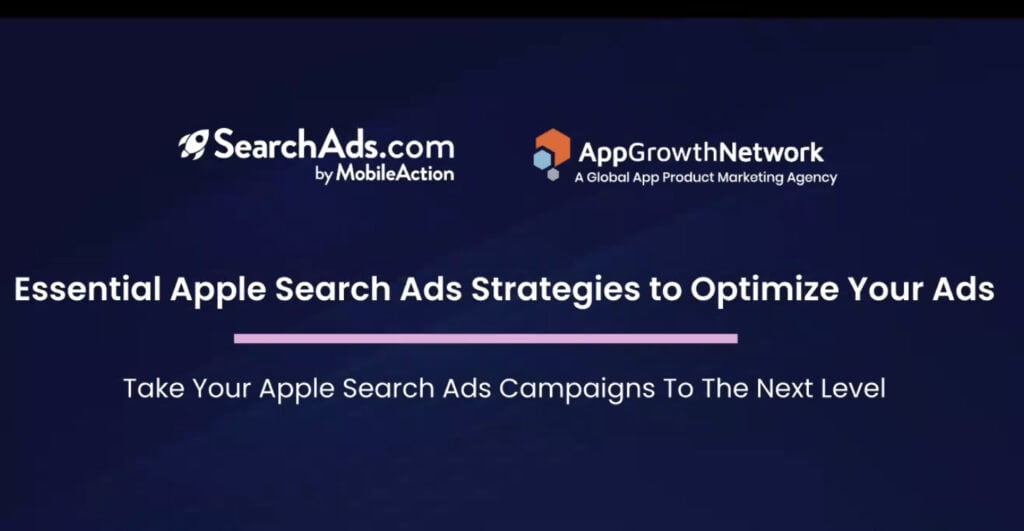 1. Perform an ASO Study for app relevance 
Your first step is to identify the best keywords that your app is most relevant for. This is where App Store Optimization and ASA really go hand-in-hand. These are the steps to take:
Keyword research and analysis: Find 50-200 relevant keywords in your niche
Competitor benchmarking: Check your keyword ranking compared to your 3 biggest competitors and use that as inspiration for your keyword list
Finalize ASO with the main keywords: We recommend 10-15 keywords to optimize for, which you should then add to your App Store Connect and Apple Search Ads
Monitor and analyze your keywords and search terms every 2-3 weeks; every time there is an ASO updates (about every 2 weeks), optimize your ASA as well
Once you've vetted your most relevant keywords through your ASO study, this means your app will be primed for the Apple Search Ads algorithm. Now you're ready for the next step.
2. Set up your ASA campaigns
Here is our recommended campaign structure. You can also reference our ASA basics post for more detail on Brand, Generic, Competitor and Discovery campaign types.
Basic

Brand/Generic/Competitor/Discovery
Advanced

Value-based ad groups – this is if you have advanced ASA capabilities; for example, you can use your MMP to see the ROAS of your keywords and create separate ad groups with those kws
We'd like to add that there are new ASA features that Apple has recently added.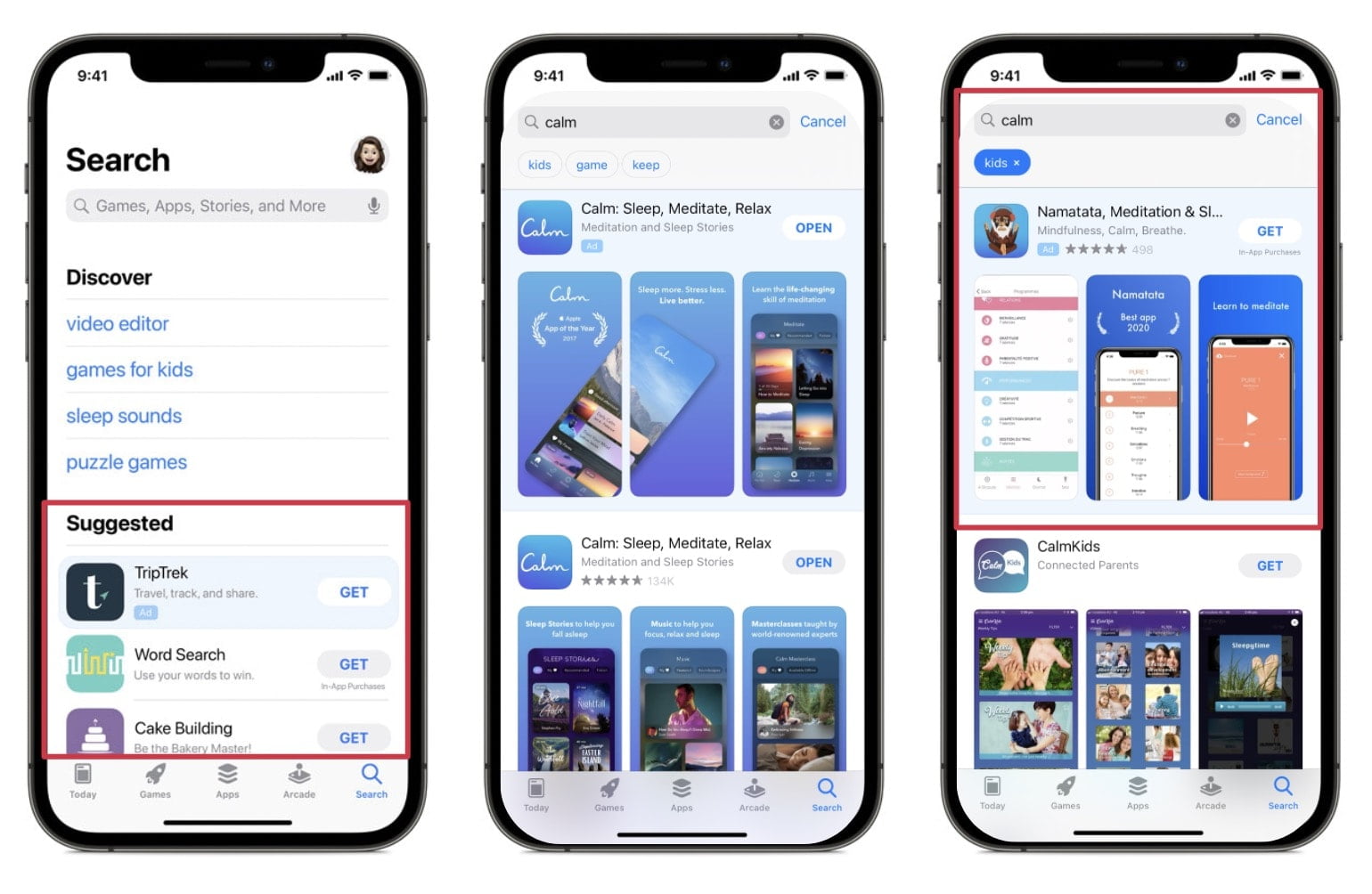 Search tab campaigns: app listings appears in a "suggested" section on the search page of the App Store (as seen on the image on the left above)

 First 3 screenshots appear in the ad and the 3 subsequent screenshots appear underneath in the organic search section (middle image above). As you can see in the example below, the Calm ad shows screenshots one, two, and three while the organic listing below it shows screenshots four, five, and six.
Suggestions in Search (being tested in US, Canada and the UK—shown in image above on the right).

This allows you to customize your suggestions with buttons, as seen in the example below. The search is for Calm but the suggestion button is for "kids" which then lists suggested apps in that secondary niche.
TIP: Set standard naming conventions of your campaigns—it will save you time in reporting and optimization!
3. Speed up your optimization
When you're optimizing, you should look at key metrics at each stage of the funnel. For example, at the Acquisition stage, the most important metrics will be impressions, taps and downloads. When using tools like SearchAds.com, using preset rules is a game changer! At this stage, one of our favorites is "Impressions Booster" which helps you minimize or maximize bids for the most impressions.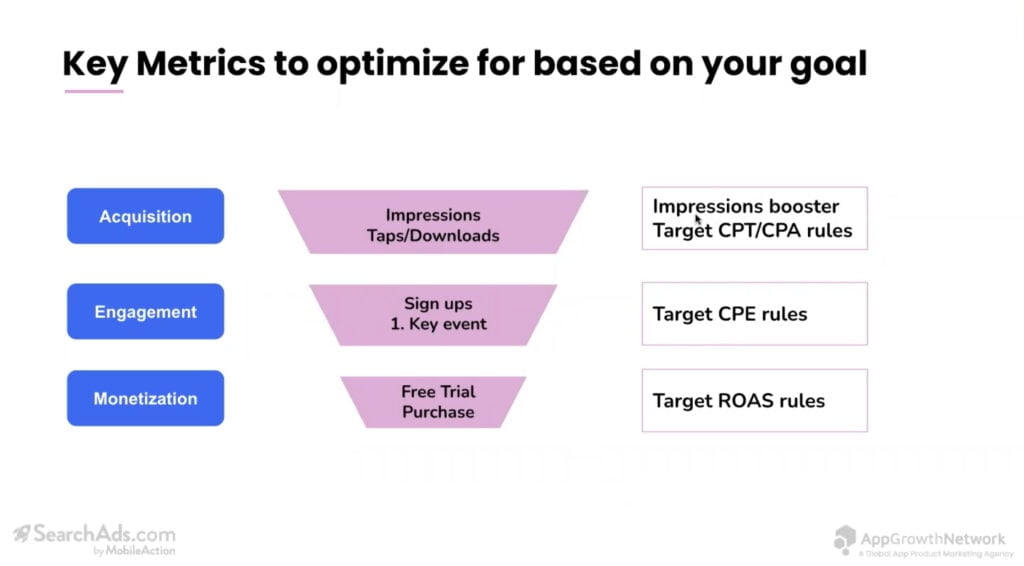 Ideally you want to make sure that you're optimizing all keywords based on their ROAS performance. Here are examples of how to set up automation rules by stages: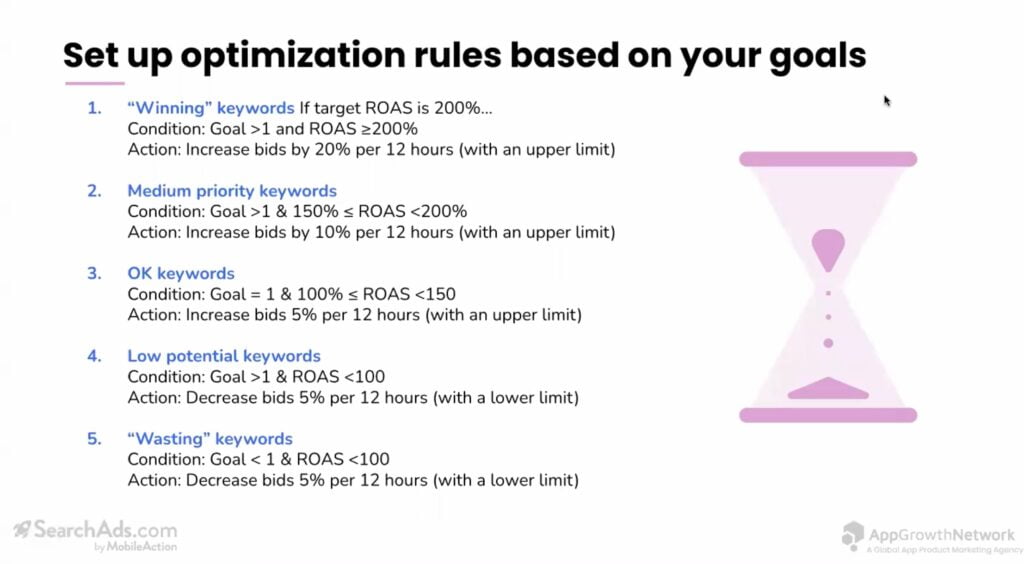 4. Measure ASA campaign effectiveness
It's commonplace to find discrepancies between your ASA and MMP data, so you need to make sure that you're calculating your ROAS correctly by adjusting the data as needed.
Another useful approach to measure effectiveness is to monitor brand protection versus cannibalization. One way to do this is by conducting an incrementality in a secondary market. For example, if you're running campaigns in the US and Canada, you can pause branded campaigns in Canada (the secondary market) for 10 days and see if there is a change in the number of downloads. 
Lastly, always validate your data. This means checking your MMP for duplicate keywords and ensuring that your final results are accurate.
If you're ready for some advanced tips, we'd like to share some of our favorites here: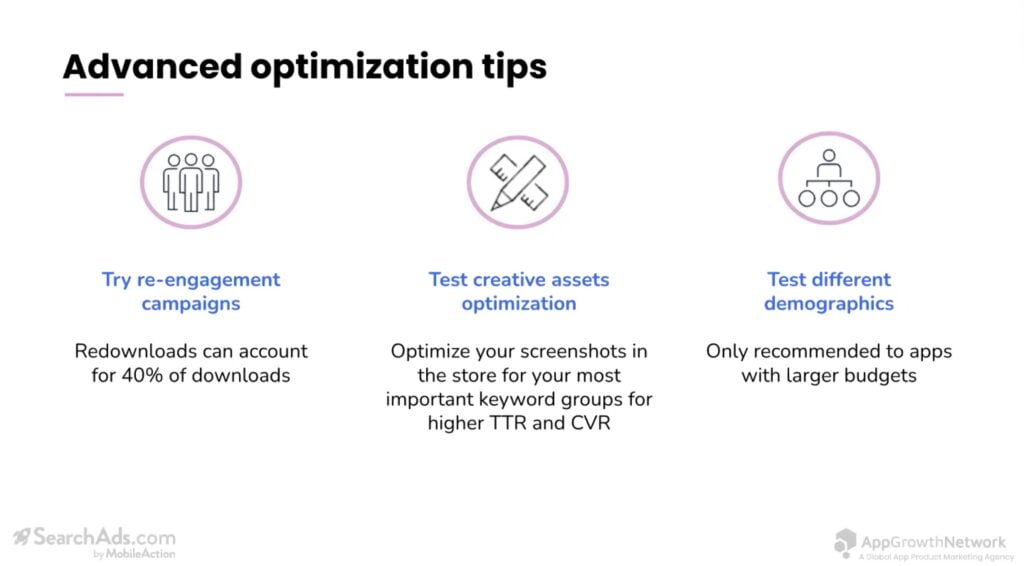 Final Thoughts
There you have it! These are our tips and tricks of how to synchronize your ASO and ASA effort for maximum results. Here they are in a nutshell:
Find 10-15 main organic keywords you want to optimize for and rotate those regularly

Take advantage of all ASA features like Search Tab campaigns

Understand your key metrics in the funnel from impression to purchase

Set up 5-6 automation rules based on your CPA/ROAS goals

Validate your data between ASA, App Store Connect and MMP
We know that handling Apple Search Ads (along with all the other things you need to deal with!) can seem overwhelming. If you'd like to rely on a team of professionals who dedicate themselves to this type of work, get in touch! We'd be happy to help.
Related Articles
In today's competitive app market, it's crucial for app developers and marketers to reach a wider audience and [...]

WidgetKit was introduced in WWDC22 as a new way to showcase app activity. Anyone who's bought an iPhone [...]