App Growth Strategy: Advice from our CEO
Building an app? Have an app that could use a growth boost? Our App Growth Network founder and CEO, Fouad Saeidi, was recently featured in "Fix the Convince," a business marketing optimization podcast, where he reveals tips about winning app growth strategies. From App Store Optimization (ASO) to paid app campaigns to key metrics to consider when growing a mobile app product, the session is packed with valuable advice from the expert himself.
If you're in the app business – or contemplating building and growing one – you'll want this information! You can read the main highlights below, or tune in and listen to the podcast here: https://lnkd.in/eYe6eva 
What you'll learn in this article

One-on-one relationship building
1.2 Unique Marketing OpportunitiesUnderstanding ASO and how the iOS App Store and Google Play are different
2.2 Reviews greatly affect app ranking
2.3 Retention strategiesFollow a progressive approach in an app's early phases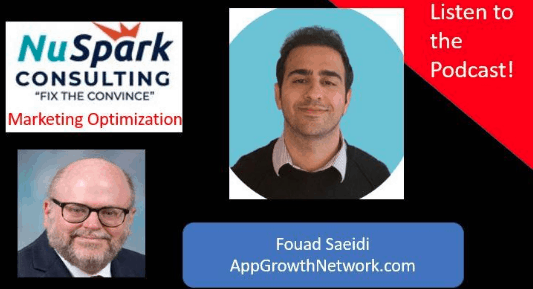 Apps are part of our everyday lives with no sign of going away any time soon. As such, mobile apps are part of a business strategy for companies to provide solutions to people who have needs – from needing to be entertained to needing information, and so much more.
What makes apps so valuable to companies?
Mobile apps allow for focused, one-on-one relationship building
From a customer experience perspective, apps are convenient and focused. Compared to web-based resources, findability of what a user needs is much easier with an app. When people sit in front of a computer, there are a lot of distractions on the web – whereas an app takes the user directly to where they want to go to do what they want to do. Habit formation becomes more dominant by building this direct relationship – an aspect that is very important to brands and companies.
Mobile apps present unique marketing opportunities
From a marketing perspective, apps also present a lot of opportunities. There are options to send push notifications at a specific time of day based on a user's past behavior. With geo location-tracking capabilities, a promotion can be delivered to a user for a nearby location, making the offer convenient and relevant.
For many companies, apps are another engagement vehicle, and they can also serve as companion vehicles. For FinTech companies, a user isn't likely to use an app as a full accounting journal –  but they will use it to manage business matters on the go. A good example is Cleargate's business management app, PayUp. The app relieves the need to be in front of a computer to check the status of an unpaid invoice or to quickly send an estimate for a potential job – you can do it directly from your mobile phone while doing other things – like enjoying family time or going grocery shopping.
What are some best practices for apps to rank higher in app stores and be successful?
Understanding ASO and how the iOS App Store and Google Play are different
App Store Optimization (ASO) is most easily explained as SEO for apps. Many of the practices are the same, but there are also differences. One is how the ranking algorithms for the App Store and Google Play are different.
First off, Apple – unlike Google – is not a search engine. They're about quality metrics – about good sentiment, good reviews, clear metadata, download velocity, and retention. The descriptions are less important as far as rankings go. Of course, you want a strong description with a focus on the first 200 characters since this is important for conversion.
For Google Play, however, everything is indexed – which means that everything needs to be optimized. From the short to long 4,000 character description, title, to the Bundle ID and developer name, every keyword counts and affects ranking. That's why more patience is needed for Google Play. Don't be surprised if it takes 60 to 90 days for an app to rank in the Google Play app store.
Reviews greatly affect app ranking
In traditional media, marketers use "reputation management" which is a method of asking consumers to leave reviews – via email or some other form of communication. For apps, the ask can be direct via push notifications.
One recommended method is to ask the user for a review after a "critical event" of the app. A critical event is the main goal of the app. For a meditation app, the goal of the app – or its critical event – is completing a meditation session. After the user has completed a few sessions, you know they're committed and enjoying the experience enough to keep coming back – this is a good time to ask for a review, as it's more likely to be a positive one. Research shows that 60-70% of people send feedback that way versus doing a review in the app store.
Retention strategies
App retention is just as important as acquisition – if not more. You've spent money to bring people to the app and the goal is to keep them there. One thing you must do is segment users into categories – your power champion users, casual users, dormant users, and churned users.
How you handle retention for each segment generally requires a different tactic. You must analyze every part of your app – the onboarding process, push notifications, the social status, gamification and more. Know what keeps people coming back for more.
What are the top ways to advertise an app and measure the performance of your acquisitions?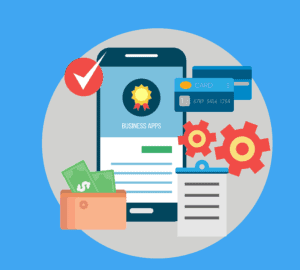 The top advertising channels are organic – like ASO – and paid channels like Apple Search Ads, Facebook Ads and Google Ads. The CPI for each of these varies. Apple ads will get you high-intent users because bids are based on keywords, for what people are searching for. Then you have Facebook that allows you to get into the depth of the audience. Google ads don't have an audience option, but they're good for scaling – and they're cheaper.
There is no one clear winner for every app. The best advice is to track and be data-driven. You need the right tools – like an attribution tracker. And there are proprietary tools, like the dashboard we created for clients, Apollo. A tool like this makes sense of the data for you. You can see in an executive report where you're spending your money, the ROI by specific campaigns, how users are behaving in the app in perspective to the source of traffic. 
Follow a progressive approach in an app's early phases
The best strategy to follow is batch-by-batch user acquisition. In the beginning, you don't need to spend a lot of money to acquire an incredibly large amount of users. What you want to do in the first phase is to get a couple thousand users and track.
The focus here should be on quality versus quantity. From these first thousand, you want to get your best users in the early phases; these are the ones who will help you to identify the leaks in the bucket – in other words, what aspect of your product isn't working so that you can fix it before rolling out to a larger audience. After you set the stage, you have a tested, verified product backed by data to present to investors and move on to the next phase.
Remember that marketing should be baked in from the start. As developers are coding, you want to know the SDKs to use (they're free) and all of the small details that matter for ranking. For example, the Bundle ID affects ranking – but once it's chosen and coded, it can't be changed. It's much easier to get things right during a product's development instead of going back to undo what's already been done – you'll save yourself lots of time, money, and stress.
Key Takeaways
Make sure all growth SDKs are onboard

Don't expect to build your app overnight

Come up with good positioning of innovative idea that's worth sharing

Show investors data – don't expect them to hand over money with a pitch deck

Focus on quality users from the beginning – the first 10,000 users can make or break your app

Choose something you're passionate about – have a good story to tell

You're not alone – there's support out there for you
Related Articles
In today's competitive app market, it's crucial for app developers and marketers to reach a wider audience and [...]

WidgetKit was introduced in WWDC22 as a new way to showcase app activity. Anyone who's bought an iPhone [...]