5-Step Plan For How To Do ASO Keyword Research
Having a solid ASO strategy is crucial to your app's overall success. If app store search traffic is a major source of your organic user acquisition—or if you'd like to grow your traffic from search in both app stores—then keyword optimization is the most vital aspect of ASO.
Only through proper ASO keyword research can you find the most effective keywords to use for your app metadata—or all of your app store listing elements—that will increase your search rankings and make your app stand out against your competition.
So, how do you do keyword research for ASO the right way?
Discover the answer by following our 5-step plan outlined here
1. Conduct master list keyword research
Step one is your most high-level start to the keyword research process. This is where you're going to develop your catch-all master list for every short tail and long tail keyword that is relevant to your app.
If this leads to having a whole lot of keywords, not to worry, that's the point of this step!
Here are the most common methods to complete this first step:
Brainstorm
Create a backlog of topline keywords using the most on-hand research methods—like browsing the app stores on your own mobile device, surfing the web, and consulting a thesaurus. Using ASO tools also helps in the initial keyword research stage if you don't want to do it manually.
Also, just think about what your app does. What words or terms come to mind when you describe your app features and function? Jot those down!
Add ranked & category keywords
This means adding keywords that your app already ranks for. Usually a previous title, subtitle and keyword set already exist that need to be improved from an ASO perspective. Title and description information are available on App Store and Google Play, so that should be your first reference point.
An ASO keyword tool is again extremely helpful here—tools like AppTweak and Mobile Action generate an overview of all the keywords that an app ranks for. You can also get a list of keywords that top apps rank for from a specific category, which are also handy.
Reference free online resources
App Store and Google Play generate auto-suggestions that are insightful. By inputting the word "meditation", you'll get a slew of auto-suggested long tail keywords like "meditations apps free", "meditation music" and more.
Google Keyword Planner is a free resource and super easy to use, so definitely use this option to see what keyword terms come up. The best part is that you can see how many monthly searches each keyword or term gets, so you get a valuable sense of popularity.
But it's important to remember that the data collected by Google's Keyword Planner is based on web-sourced keywords. Therefore, it's useful as a discovery tool, but keep in mind that—in the end—web searches and app store searches aren't the same.
2. Prioritize the keywords on your master list
Obviously, your master list will be too long. In step two, you're going to methodically start narrowing down your selection by prioritizing the keyword search terms that will yield the best results.
For most of these, you will need one a trusted ASO tool like AppTweak to generate these detailed reports. It's all information you'll need access to if you want to do ASO effectively!
Here are the best methods for prioritizing your keyword list:
Analyze the search conversion metric from Apple Search Ads
The most successful app marketing strategies take into account that synching up your ASO and ASA efforts will help boost app growth. Finding your app's best keywords is a critical area where Apple Search Ads is a huge help. 
In addition to your ASO tool, you can research and check the volume of your target keywords in Apple Search Ads and test them for relevancy. Aligning your app store metadata with your Apple Search Ads will increase your app's relevancy score in Apple's point of view, which can also improve the effectiveness of your campaigns.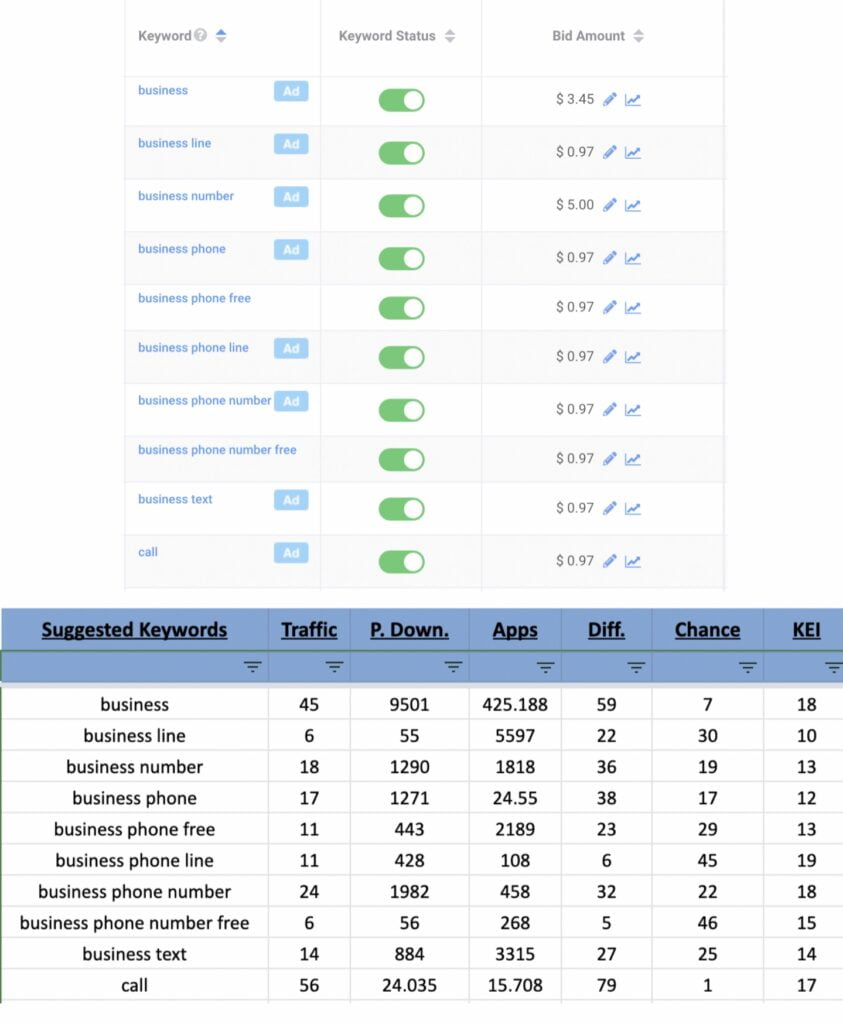 Analyze search volume
Google Keyword Planner is useful for providing average monthly searches of keywords. You can also use Search Volume scores as provided by your ASO keyword tool.
By looking at the score for each search term, you know where the keyword stands – the higher the score, the more people search for that given term. These, of course, are the ones you want to rank for, as this ranking visibility is essential for people discovering your app.
Analyze how your current keyword ranks
Most of the time, looking at the keywords you are getting traffic from gives you important insights on the type of users who are engaging with your app.
Exploring that niche further—and its associated long-tail keyword—provides a solid opportunity to boost your app's visibility. Keywords that are performing well and offer new opportunities are ones you want to hang on to.
See what your competition is doing
Don't forget to look up your competitors—you might discover new keywords that should make it to your keyword shortlist—plus, it will enhance your understanding of your app's niche.
Specialized competitor keyword research reports shed light on keywords that are working well for your competition. For example, AppTweak's Keyword Monitoring report lets you easily track competitors' keyword performance.
Determine keyword relevancy
To accurately determine keyword relevancy, you need to prioritise difficulty over traffic. This means that sometimes you must target less popular terms in order to guarantee visibility. This, of course, should be balanced with paid user acquisition efforts.
The checklist we use for our clients is:
Currently ranked keywords that can be enhanced

Locations of our main keywords

New possible keywords

Competitor keywords
Have a final list of 10 core keywords
Narrow down your list to 10 core keywords, of which 90% of your entire keyword list will be related to.
The competition levels of those keywords should break out as high competition (25%), medium/low competition (50%) and medium/high competition (25%) as illustrated below.
3. Incorporate top keywords into the app metadata
Now that you've whittled down your keyword list into the 10 winners, it's time to make them shine in your metadata. The areas where you want to incorporate as many of these core keywords as possible is in these fields:
Title (for App Store and Google Play)

App Store (30 character limit)

Google Play (50 character limit but changing to 30 characters with upcoming GP guidelines update)
Subtitle (App Store) or short description (Google Play)

App Store subtitle (30 character limit)

Google Play short description (80 character limit)
Keyword set (App Store only)
Long description (App Store & Google Play)

4,000 character limit for both stores
As seen above, the keywords listed are incorporated into both the title and subtitle while adhering to the character count guidelines.
4. Track keyword performance
In order to efficiently measure the impact of the new metadata, it's important to start monitoring keyword performance by adding them to a keyword tool and tracking any changes that happen to your keyword rankings after that point.
Starting with only prioritized keywords also helps greatly in preparing for the next iteration of keyword optimization.
5. Plan your next ASO iteration
Tracking, monitoring and analyzing keywords and their rankings consistently is non-negotiable. This is the only way to make sure that your app stays afloat amid constant app search ebbs and flows.
Any necessary metadata changes and ASO updates should take place every 2 to 3 weeks. The time goes quickly, so be sure to have these updates properly scheduled and on your radar.
And, there you have it––your 5-step keyword research plan! Remember that monitoring and tweaking is a constant part of the process. If you stick to the plan and make optimization a priority, your ASO will reap the benefits. If you'd like to have experts handle all this for you, be sure to contact us. We're happy to help!
Related Articles
When it comes to building an outstanding mobile-first advertising strategy, there are several directions you can take. Two [...]

Want to Extend the Life of Your Winning TikTok Creatives? Apply the 80/20 Rule TikTok has become the [...]