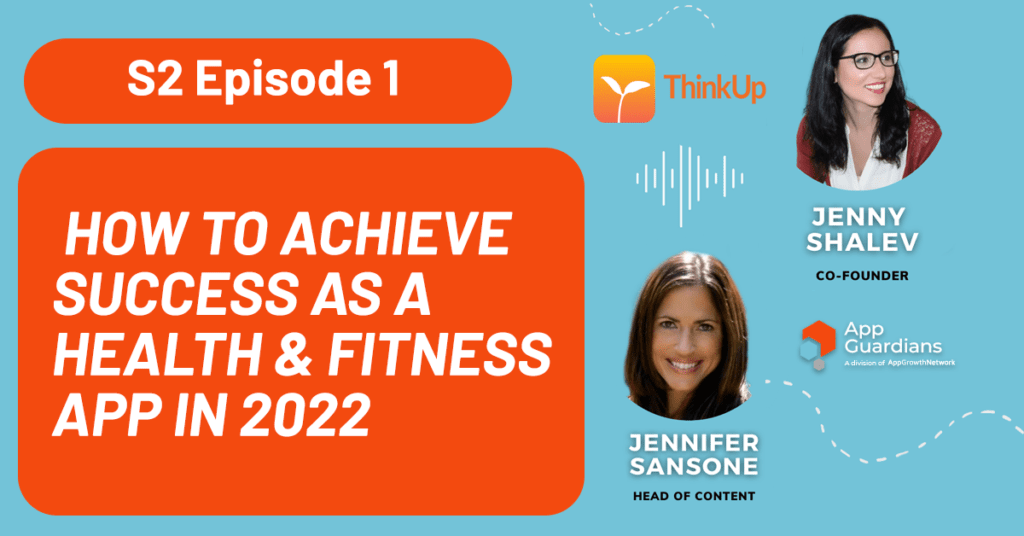 Season 2 – Episode 1: How To Achieve Success As A Health & Fitness App in 2022
Hey, App Growth Community! Welcome back to the App Growth Show, where we host mobile experts to provide valuable and actionable insights on how you can grow your app. No matter where you are in your app growth journey, we are able to help you achieve your mobile growth goals.
As we premier our Season 2 first episode, we are so excited to be joined by a valued client of AGN, Jenny Shalev. Originally Jenny started her journey as a software engineer and as she travelled from Israel to Silicon Valley, she transitioned into the consumer app business and created a fabulous app called Think Up.
ThinkUp is an award-winning mental health app. If you are looking to build a positive mindset and motivation through self-talk and affirmations, ThinkUp is the leader in this space. ThinkUp is recommended by top personal development and Mental Health specialists. It offers a unique combination of simple and effective self-help techniques that can be personalized for any life goal, such as boosting self-confidence & motivation, reducing stress & anxiety, and much more.
Prepare to hear an intriguing perspective from someone who entered the app space with no huge ambitions or goals, but with a powerful and inspiring idea that has resulted in tremendous success in the health and fitness vertical.
Tune right into the episode to uncover how Think-up achieved success as A Health & Fitness App and how can your Health and Fitness app can do it too!.
Watch on YouTube
Listen Here:
The App Growth Show is sponsored by the App Growth Network, we are an award-winning North American app marketing agency. If you are interested to learn more about how you can grow with us, book a free call with us here to start supercharging your mobile growth today!
Chat More With Our Speakers From Today:
Feel free to browse through our episodes and have a listen to one (or all!) of our talks about the many facets of what it takes to achieve mobile app success, from user acquisition to retention strategies and beyond.
Subscribe now to AGN Podcast to gain insight on the latest app growth strategies and secrets at your preferred podcast directory:
Want to chat with our team of experts today to supercharge your app growth? Book a call with us here!