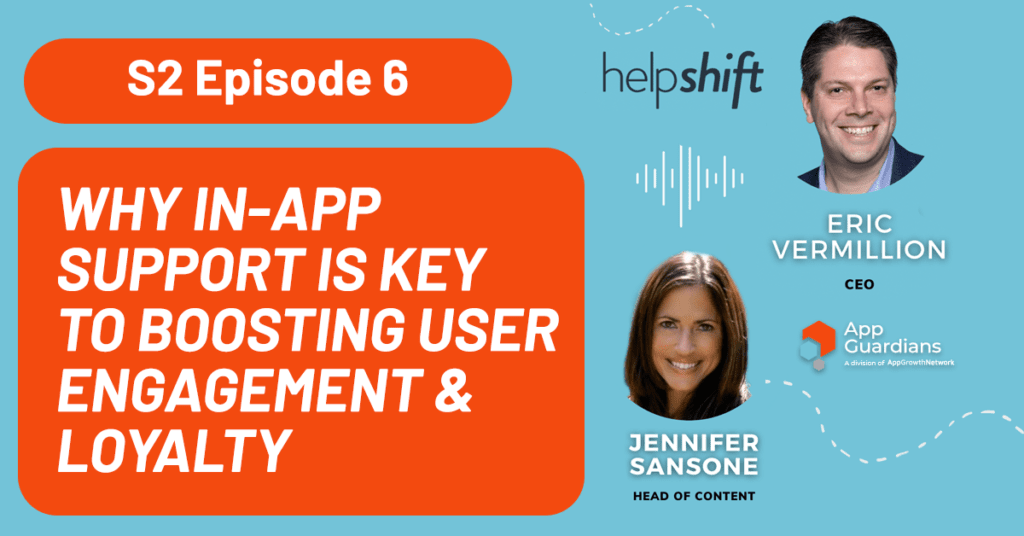 Season 2: Episode 6: The Ultimate In-App Tool To Keep Your Users Engaged
Hey, App Growth Community! Welcome back to the App Growth Show, where we host mobile experts to provide valuable and actionable insights on how you can grow your app. No matter where you are in your app growth journey, we are able to help you achieve your mobile growth goals.
Today we are thrilled to be joined by Eric Vermillion, the CEO of Helpshift. Eric is a veteran within the software and tech industry; before joining Helpshift, he played a major role in the growth of both BlueCat and Nice Ltd.
Helpshift is a mobile-first customer service platform that delivers a revolutionary in-app help experience for many of the world's top mobile apps and games. Whenever users need help, they can get it right in the app with an always-on help experience that delivers immediate, automated solutions to many issues.
Get ready for an interesting conversation around the importance of providing today's users with a slick and easy-to-use customer service option right inside the app and the many benefits a platform like Helpshift can have on your overall growth journey!
Watch on YouTube
Audio Version
The App Growth Show is sponsored by the App Growth Network, we are an award-winning North American app marketing agency. If you are interested to learn more about how you can grow with us, book a free call with us here to start supercharging your mobile growth today!
Chat More With Our Speakers From Today:
Feel free to browse through our episodes and have a listen to one (or all!) of our talks about the many facets of what it takes to achieve mobile app success, from user acquisition to retention strategies and beyond.
Subscribe now to AGN Podcast to gain insight on the latest app growth strategies and secrets at your preferred podcast directory:
Want to chat with our team of experts today to supercharge your app growth? Book a call with us here!