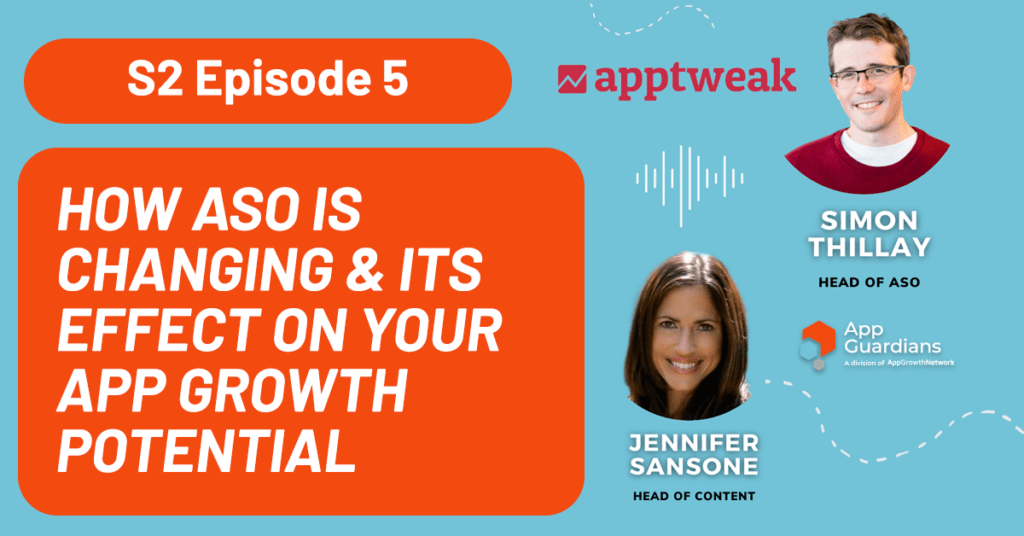 Season 2: Episode 5: How ASO Is Changing & Its Effect On Your App Growth Potential
Hey, App Growth Community! Welcome back to the App Growth Show, where we host mobile experts to provide valuable and actionable insights on how you can grow your app. No matter where you are in your app growth journey, we are able to help you achieve your mobile growth goals.
Today we are thrilled to be joined by Simon Thillay who is the head of App Store optimization for one of AGNs valued partners AppTweak. Simon is a seasoned speaker at mobile growth conferences and host of many online webinars. Simon contributes to advancing ASO knowledge with practical research and frameworks such as A/B/B testing or Brand Defense Cost Modeling in Apple Search Ads.
AppTweak is the leading ASO tool that offers mobile leaders a comprehensive, yet simple self-service platform helping them to grow their apps through actionable insights. AppTweak's all-in-one platform offers ASO intelligence, Ad Intelligence, App Intelligence and Market Intelligence – truly giving mobile leaders the best opportunity to optimize their ASO efforts.
Prepare to receive an up-to-date perspective from an ASO mastermind regarding the constantly changing mobile landscape and how to maintain your efforts for App Store Optimization in the current competitive environment.
Watch on YouTube
Audio Version
The App Growth Show is sponsored by the App Growth Network, we are an award-winning North American app marketing agency. If you are interested to learn more about how you can grow with us, book a free call with us here to start supercharging your mobile growth today!
Chat More With Our Speakers From Today:
Feel free to browse through our episodes and have a listen to one (or all!) of our talks about the many facets of what it takes to achieve mobile app success, from user acquisition to retention strategies and beyond.
Subscribe now to AGN Podcast to gain insight on the latest app growth strategies and secrets at your preferred podcast directory:
Want to chat with our team of experts today to supercharge your app growth? Book a call with us here!