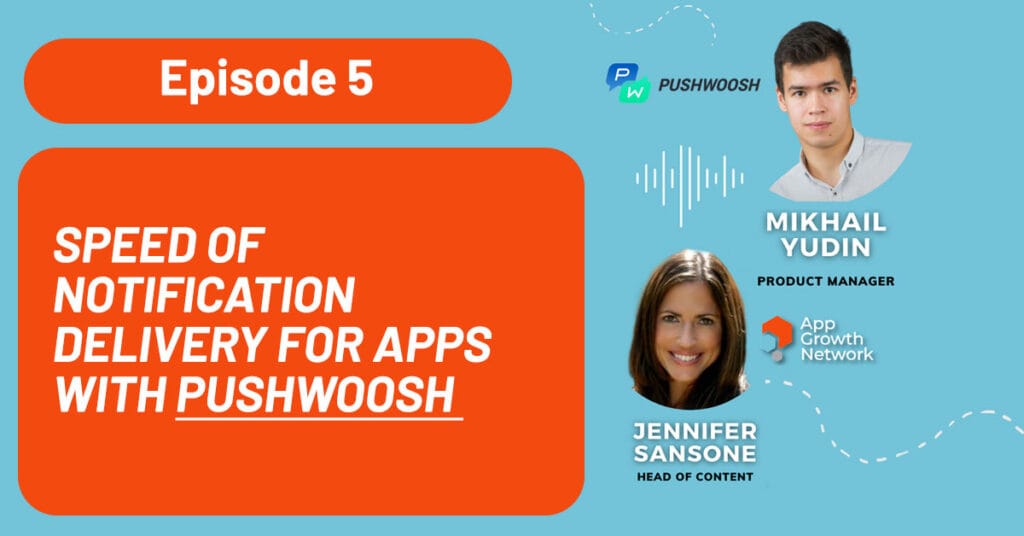 Episode 5: Pushwoosh
Hey, App Growth Community! Welcome back to the App Growth Show, where we host mobile experts to provide valuable and actionable insights on how you can grow your app. No matter where you are in your app growth journey, we are able to help you achieve your mobile growth goals.
In today's episode, we are in conversation with our special guest Mikhail Yudin, Product Manager at Pushwoosh, and our lovely host Jennifer Sansone, Head of Content at App Growth Network. Here we discuss the significance that the speed of push notifications strategy plays in the mobile app industry and dig deeper into Pushwoosh-a global customer engagement platform that can help you deliver those critical messages to your audience through their high-speed push notification services that are up to 300K push notifications per second.
Listen in on our episode and learn how Pushwoosh through its services can help your businesses grow through their 600M+ daily messages, to 2.3B devices across the world. Get ready for some expert tips and tricks to level up your push notification strategy.
Chat More With Our Speakers From Today:
Feel free to browse through our episodes and have a listen to one (or all!) of our talks about the many facets of what it takes to achieve mobile app success, from user acquisition to retention strategies and beyond.
Subscribe now to AGN Podcast to gain insight on the latest app growth strategies and secrets at your preferred podcast directory:
Want to chat with our team of experts today to supercharge your app growth? Book a call with us here!