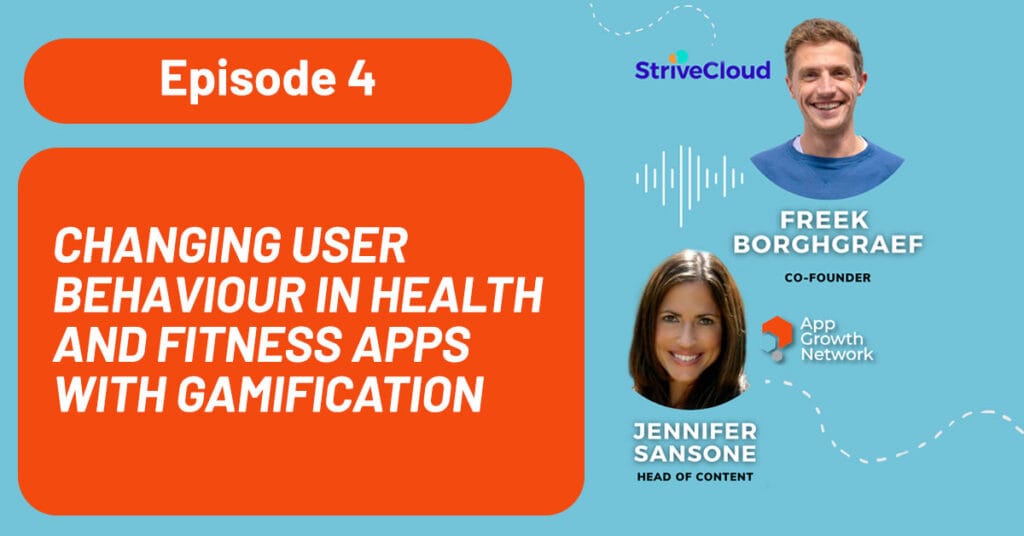 Episode 4: Changing User Behaviour in Health and Fitness Apps With Gamification
Hey, App Growth Community! Welcome back to the App Growth Show, where we host mobile experts to provide valuable and actionable insights on how you can grow your app. No matter where you are in your app growth journey, we are able to help you achieve your mobile growth goals.
In today's episode, we are in conversation with our special guest Freek Borghgraef, Co-founder at StriveCloud, and our lovely host Jennifer Sansone, Head of Content at App Growth Network. Here we discuss the significance that gamification has in the Health & Fitness category, and dig deeper into StriveCloud's research on gamification and how gamification can increase user retention by up to 500%
Listen in on our episode and learn how StriveCloud became one of the top user motivation platforms, as well as how it helps apps grow from a gamification perspective. Get some real-world advice and become the next health and fitness giant. Or Gaming gaint. Or Finance giant-you name it!
Chat More With Our Speakers From Today:
Feel free to browse through our episodes and have a listen to one (or all!) of our talks about the many facets of what it takes to achieve mobile app success, from user acquisition to retention strategies and beyond.
Subscribe now to AGN Podcast to gain insight on the latest app growth strategies and secrets at your preferred podcast directory:
Want to chat with our team of experts today to supercharge you app growth? Book a call with us here!