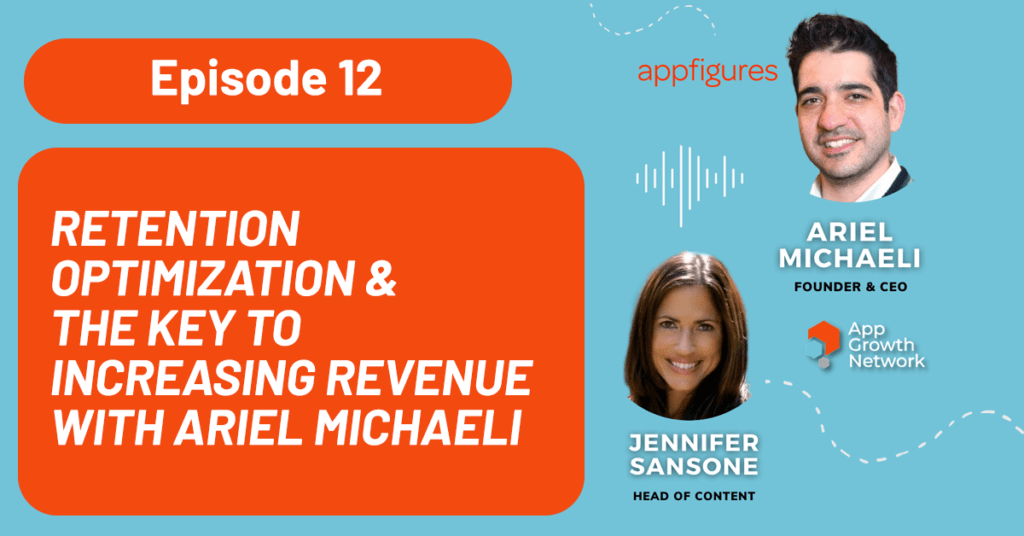 Episode 12: Retention Optimization & The key To Increasing Revenue
Hey, App Growth Community! Welcome back to the App Growth Show, where we host mobile experts to provide valuable and actionable insights on how you can grow your app. No matter where you are in your app growth journey, we are able to help you achieve your mobile growth goals.
Today, we are so excited to be joined by Ariel Michaeli, Founder & CEO at Appfigures. From an early stage, Ariel developed a passion for data and analytics and through Appfigures, He has found a way to take this complex data and simplify it, making it useful for pretty much everyone. Appfigures has become the app analytics, optimization and intelligence choice for top developers, publishers, marketers and analysts all around the world.
The importance of data being able to understand it, interpret it and most importantly grow from it is so important in the landscape of today's business world. Get ready to learn how Ariel and his team at Appfigures are simplifying that data, making it easier to understand and use. Tune right into the episode to discover how retention optimization can be a key factor in increasing revenue.
The App Growth Show is sponsored by the App Growth Network, we are an award-winning North American app marketing agency. If you are interested to learn more about how you can grow with us, book a free call with us here to start supercharging your mobile growth today!
Chat More With Our Speakers From Today:
Feel free to browse through our episodes and have a listen to one (or all!) of our talks about the many facets of what it takes to achieve mobile app success, from user acquisition to retention strategies and beyond.
Subscribe now to AGN Podcast to gain insight on the latest app growth strategies and secrets at your preferred podcast directory:
Want to chat with our team of experts today to supercharge your app growth? Book a call with us here!