Hangry Mates is one of the first mobile app games to use face photo integration. A user is able to access their phone camera through the game and take 3 real-time photos to use for their hangry character's expressions. There are two face cut-out options available that integrate a more seamless photo onto the cartoon bodies. It's a fun game to play solo or with family.
Goal:
Our client's short-term goal was to successfully launch the app in the US market for long-term success and reach a high volume of users.
Primary Goals:

•
Launch the app successfully
•
Rank higher for relevant high-traffic keywords
• Boost organic downloads for both Google Play Store and iOS in various countries
The App Growth Network Approach:
The client contacted us two months before the launch of the app and the team worked directly with the offshore developers.
We created a channel where we had the offshore developers, the client, and the AGN team in one place so that we could communicate easily and get all the necessary account access. We sent them the onboarding document which included step-by-step details of all the accounts we need access to in order to start the process.
A critical point that sole entrepreneurs or developers miss out on – as was the case with this client – is how important the bundle ID is for ASO. It's important to get it right from the start because, once an Android app is launched, the bundle ID cannot be changed.
We helped Hangry Mates avoid this common error by setting up their bundle ID beforehand so that the developers had ample time to code.
This is the Bundle Id that was created for Hangry Mates: flick.food.hungry.mates.smash
The first steps the AGN team took to increase the app's visibility included: an app audit, keyword research, long description and short description optimization, and subtitle optimization. Next, App Growth Network executed various activities that included app icon testing, screenshot creation, screenshot testing, preview video creation and integration, keyword optimization in app descriptions, and UAC campaigns to boost organic efforts.
ASO is one of our core services, and that's exactly how we planned to achieve our marketing goals over the span of a few months. We started with an extensive audit, gathering more than 300 basic, general, and industry-related keywords. We used our internal systematic process of narrowing the keywords down to the top 40 that most aligned with Hangry Mates's brand message.

The Result:
App visibility increased by more than 50% over a 3-month time period.
We identified a few relevant mid-tail keywords and included them in the app's short description and long description to rank higher for those keywords. We utilized a localized keyword strategy to include relevant keywords with the highest user demand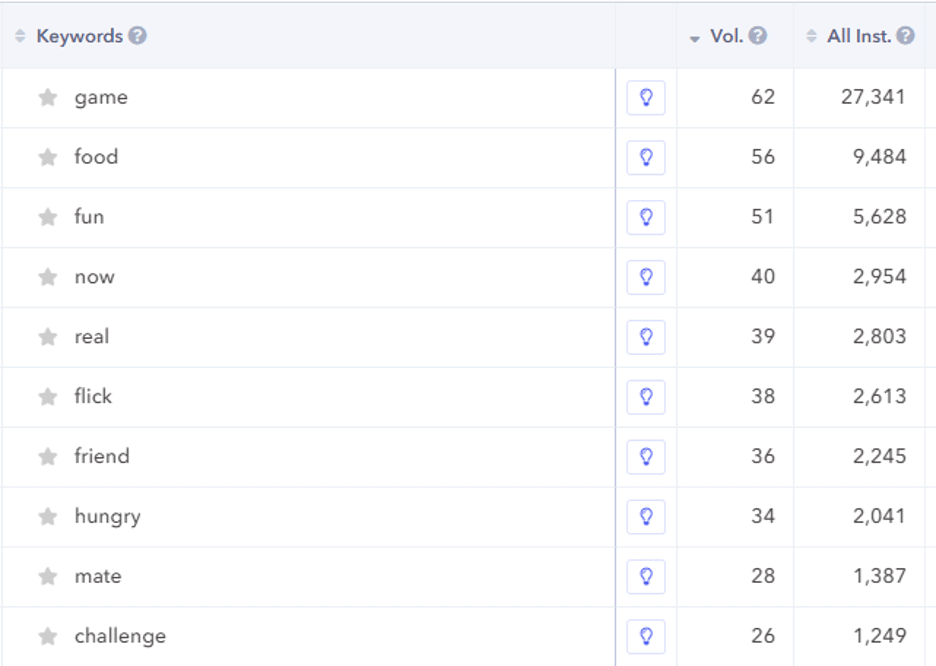 Optimized Screenshots :
Before-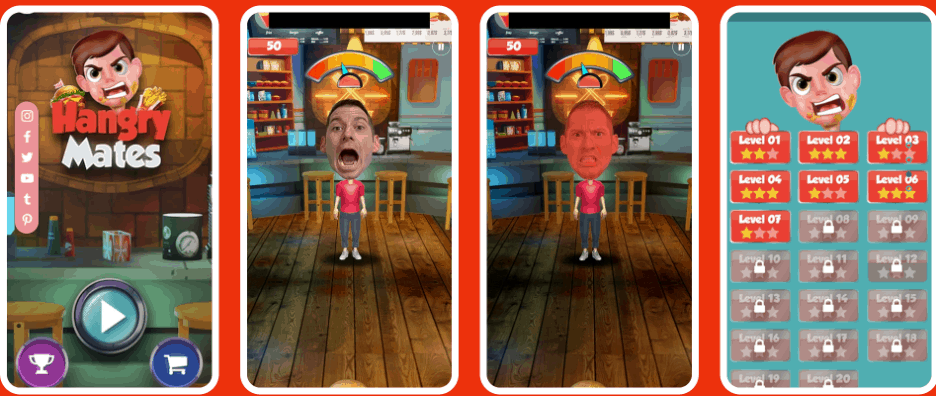 After-

The new screenshots were created by App Growth Network to showcase the different backgrounds and features that are available in the app and also to highlight that the game is fun for groups of all ages. Before, the screenshots just showed one background and the basic functionality of the app, but the new screenshots showcase every aspect of the game's glow.
User Acquisition:
Facebook & Instagram Campaigns: Facebook and Instagram were the channels tested for UA. For UAC, video ads – which reached a varied but targeted audience – were the most effective for introducing users to Hangry Mates. For Facebook and Instagram, static images, GIFs, or a carousel-style set of creatives performed best.
To optimize the client's campaigns, we took the following steps:
A) Targeted the most relevant Audience for Facebook

B) Created different ad copy for Android & iOS

C) Created new graphics for the banner ads

D) Daily monitoring of the campaigns and biweekly bid optimizations as needed, CPI vs. CP in-app actions
We monitored the campaigns every day and generated weekly reports to understand which age groups, audience and gender were giving us the most views and downloads. Doing this allowed us to focus our efforts on quality users that were getting us more visibility and downloads.
We discovered that creating different ad copies for iOS & Android, monitoring the campaigns, and optimizing bids biweekly were the keys to getting a much better visibility rate.
Trust the network
Get a complimentary, no hassle consultation. We are here to help you grow your app!