83% increase in ROAS with Apple Search Ads
ThinkUp is an affirmations and motivation app in the health and wellness category. It focuses on improving users' mindsets through daily self affirmations and self-talk practice to boost self confidence, happiness, relationships, health, and other areas of life.
In this case study, we reveal how we helped ThinkUp achieve significant results in just four months (November 2021 – February 2022) with Apple Search Ads (ASA) campaigns.
What we achieved
In four months, we increased ThinkUp's ROAS by 83%.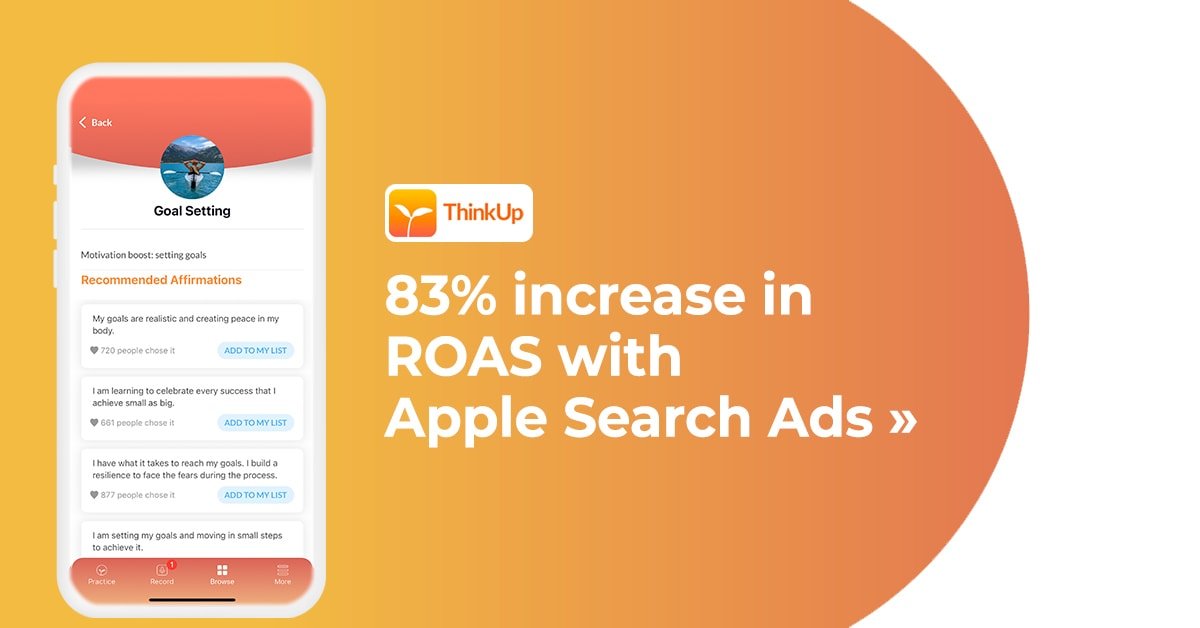 How we did it
With the Internet spreading linke wildfire and reaching every part of our daily life, more and more traffic is directed to websites in search for information.
1. Performed in-depth research for campaign set up
The first step was to understand user sentiment and values within the meditation/affirmation space by performing market and competitor research. We also reviewed prior organic keyword performance to identify the top terms with the highest conversion rate (CR).
After prior keyword performance was evaluated, we performed an in-depth campaign audit to identify low hanging fruit for immediate campaign optimizations. The ASA campaigns were set up based on best practices in 4 separate campaign types (Brand, Competitor, Discovery, Generic).
2. Conducted testing in the first 2 weeks
In the first two weeks of the ASA campaign, we conducted specific tests to monitor and evaluate elements of the campaign that yielded the best results. As part of this process, we increased daily caps significantly and placed a high default CPT.
By doing so, we were able to capture surges on priority keywords, and observe key activity like auction eligibility, install costs, and conversion rates.
3. Optimized campaigns weekly
For best long-term results, the AGN team closely monitored keyword performance and optimized campaigns on a weekly basis. For ThinkUp, our strategy to boost visibility of keywords with low impression was to increase bids by 20% each round.
The rationale behind this is that sufficient traffic needs to be generated to find the optimum level and — with low spend on keywords — it's hard to determine if a term is successful/unsuccessful or just hasn't been presented in front of a statistically significant audience.
As such, we adjusted CPT bids based on top/mid/bottom range converters, spend wasters, and late converters. To decrease ad spend, non-performing/irrelevant terms were paused and added as negative keywords.
4. Set up automations
One of the most efficient ways to monitor ad spend for Apple Search Ads is by leveraging ASA automation tools. For ThinkUp, we set up daily alerts on keywords with:
1

2

3

Those that cause too much spend

4

5
We generated weekly reports to gauge impression share, measure impact, and protect branded terms. From those reports, we adjusted bids accordingly with the following automation rules:
1

Boost impressions: +15% if impressions <1 (last day)

2

Pause: if installs <1 and spend >$10 (last 2 weeks)

3

4

5

6
5. Executed specific campaign-level optimizations
Tactics were evaluated and executed based on the type of ASA campaign (Brand, Discovery, Competitor, Generic), as each is different and may require a different approach for optimum performance.
Brand Campaign
■ Keywords were untouched and only increased if we lost impression share as we typically assume that branded terms will always have a strong ROAS
Discovery Campaign
■ This campaigns was used to mine keywords for the competitor/generic campaigns — keywords which performed well were moved, while keywords which didn't perform well were added as negative terms in order to manage spend (stop cannibalization)
Competitor Campaign
■ This was used to boost brand awareness especially against those who were bidding on ThinkUp's own branded terms around the holiday/new years resolution season
■ Because these types of campaigns are typically the most expensive, eventually only terms which were bringing in revenue were kept active, regardless of /installsCPA in order to try and balance ROAS overall
Generic Campaign
■ Was useful in aligning with our ASO strategy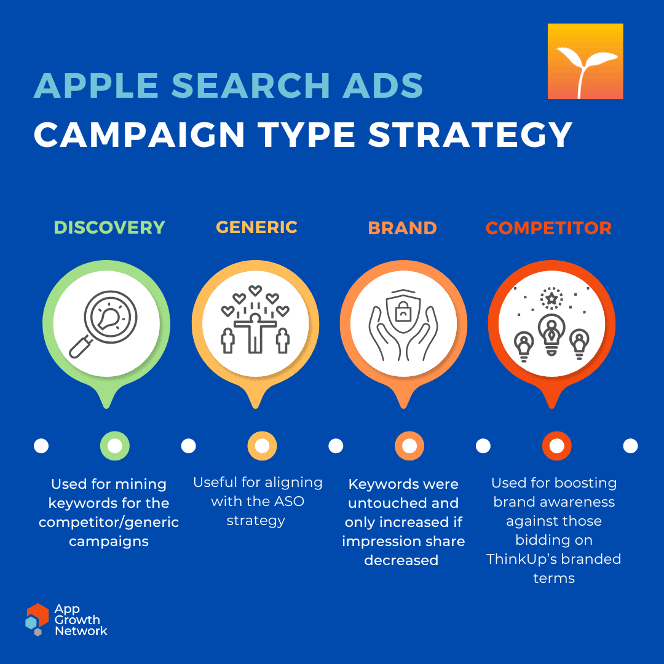 Final Thoughts
Apple Search Ads (ASA) continues to be the industry-favored acquisition channel for iOS apps, known for delivering quality users from high-intent search traffic. With plenty of research, proper implementation and diligent monitoring, ASA campaigns can reap great rewards. Through ThinkUp's app growth marketing partnership with AGN, the app enjoyed a significant increase in ROAS in a short amount of time.
If you'd like to benefit from the know-how of app marketing and mobile user acquisition experts, please contact us!