How to Soft Launch a Game App: The Steps & Costs You Need to Know
If there's an app category that's wildly popular (and lucrative) with no signs of slowing down anywhere in the long term horizon, it's gaming. It's forecasted that in 2020, the mobile game industry will generate $100 billion in revenue, $14 billion more than last year. Currently, games represent 72% of total spending in the app stores.
Even though there are millions of games in the app store now, there is still space for new ones – and the next hit game could yours! But launching a game app isn't all just fun and games (pun intended). There's a strategy for making a game successful that requires time and thoroughness. Before doing a full launch, you want to find out if your product is even desirable (aka, has the potential to make a profit) and make it as solid as possible – which is why a soft launch is so important.
So, how do you launch a game app? How much does it cost to launch an app? This is all information you'll find here, in a simplified guide with key tips on how to soft launch a game app. 
The Game App Soft Launch Process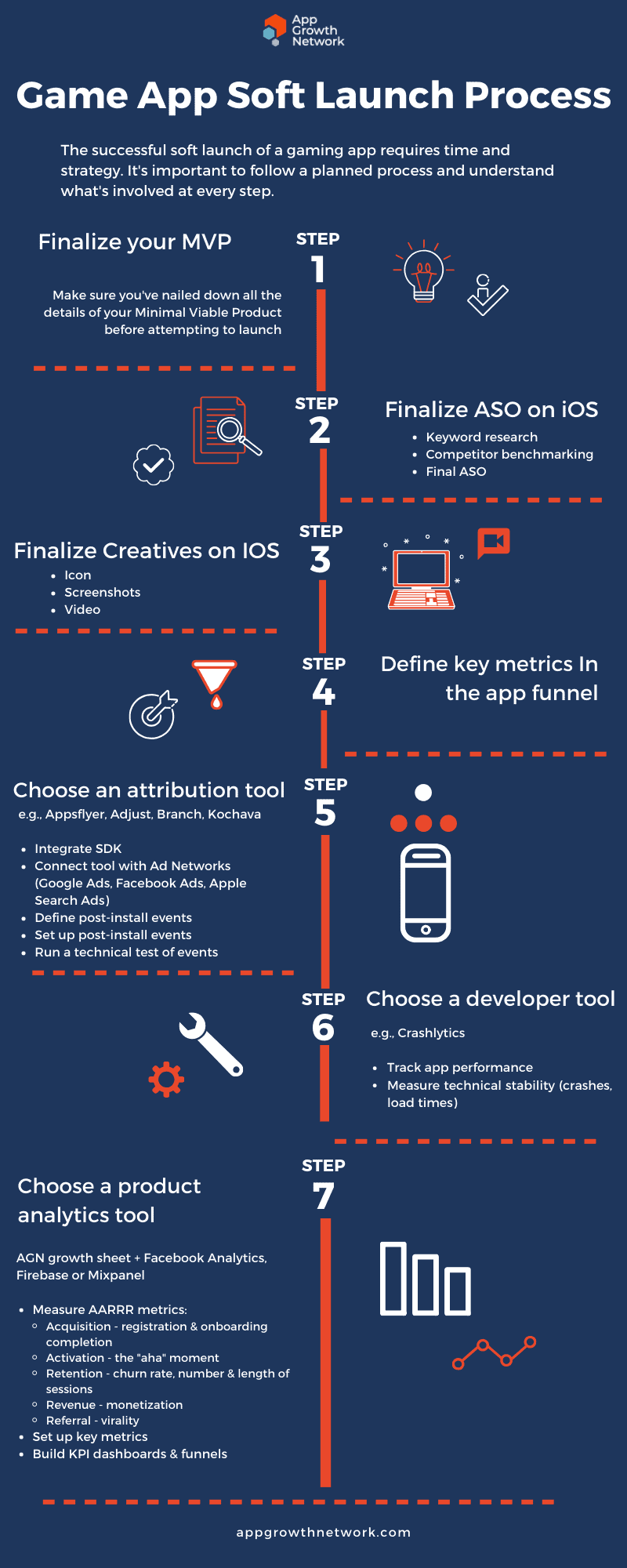 First and foremost, you need to make sure that all of your MVP's (Minimal Viable Product) details are nailed down – the market research has been conducted, the target audience has been identified, etc.
Second, you want to have your ASO finalized. This means that you've done all of your keyword research, competitor benchmarking and optimized your titles and descriptions.
In line with the step above, you want to finalize your app store creatives. Your icon should be eye catching, your screenshots should be well thought out and relevant, and your video should be professional and engaging. Make sure that all of your creatives meet the app store's technical requirements!
Next, you want to define the key metrics of your app funnel. This includes many things like number of downloads, CPI, TTR, retention and churn rate. Depending on your type of game, your metrics may vary, so make sure you're tracking everything that's relevant to your product.
After doing the proper research on all of the tools and SDKs available for apps, you want to choose the tools that best suit your needs. This includes an attribution tool – such as Appsflyer, Adjust or Branch – to track your in-app engagement based on acquisition channel, e.g., a Facebook campaign. You'll also need a developer tool, like Crashlytics, to track app performance and measure your app's technical stability. Then, select an analytics tool – like Facebook Analytics or Firebase – to measure your key metrics.
The tools should be integrated, properly set up and tested to make sure they're functioning and providing their designated data successfully. If they're not installed correctly or working as they should, this is definitely something you want to catch and fix in a smaller-scale soft launch stage.
Speaking of testing and fixing, let's move onto the actual stages of a game app's soft launch… 
The 3-Stage Strategy to Launch a Gaming App
How many downloads do I need?
The number of downloads you will need depends on your in-app funnel – how many users are you able to convert to paying users? How many people play the game daily?
Because your game is new, you might not know these numbers just yet. To find out – and to improve them to your desired level – your game needs a lot of downloads and testing.
This process involves 3 main stages that we'll dive into now:
1. Technical Stage
Here we focus on tier 3 countries, like India or the Philippines, because of their low user acquisition cost and CPI. 100-500 downloads from those regions will be sufficient for you to test your app's stability, identify major bugs or any other issues so that they can be fixed before moving on.
2.  Retention Stage
In this stage, we move on to tier 2 countries – like Brazil – that cost a bit more than tier 3 but still have a decently low user acquisition cost. Does your game require knowledge of English? Do your research on English penetration in countries worldwide. At this stage, we aim for acquiring 1,000 to 2,000 downloads.
The objective of the retention stage is to make sure that the product funnels are well exercised so that people are moving through the funnels properly – moving smoothly through the onboarding and sign-up process and engaging in the game as expected. Are they going smoothly from level to level or are they dropping off somewhere along the way?
3. Monetization Stage
In the third stage, we move on to the tier 1 countries that have the highest user acquisition cost. This includes wealthier countries with higher purchasing power like the US, UK, Australia and Germany. Here we aim for about 10,000 users. We can expect a 1-3% conversion to paying customers. Here's where you figure out your ARPAU (average revenue per user), implement your growth model, and test different marketing channels like ad networks and influencers. 
App Launch Cost and Budgetary Considerations
Next, we come to the million-dollar question:
How much money will I need to spend to launch my app?
Well, it's not a million dollars (hopefully!). 
As is true with most things mobile industry-related, the answer is: it depends.
There are some deciding factors – like your gaming app's category and your target country/countries. Let's dive a little bit deeper before we give you our answer to the original question of how much it costs to launch an app.
How your app's category will affect your app launch cost
As mentioned above, the cost of user acquisition depends on many factors such as game category or targeted country. When you're going through the 3 stages of your app's soft launch (the technical stage, retention stage, and monetization stage), you're looking to acquire users. Each stage serves its purpose with a certain number of downloads recommended at each stage. 
That's why the type of game matters. It will be easier to acquire users for a casual game compared to a strategic game for selected target users or a multiplayer game. For a casual gaming app, the download cost could be very low – let's say $1. Whereas a download for a game with a more targeted audience could cost more. So, if you're looking to acquire 250 users in the retention stage, the difference in per-download cost will add up.
How much it costs to launch an app (ballpark estimate!)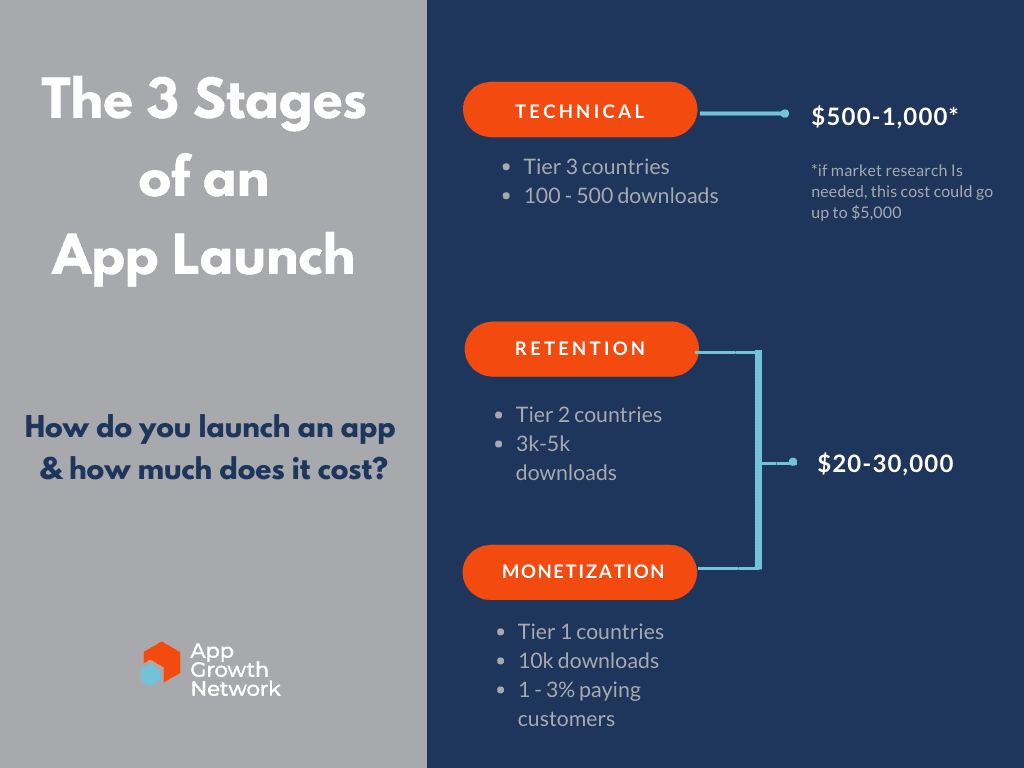 This is the estimated budget you'll need to get the number of downloads in every stage of your soft launch.
Stage 1 (Technical) is the least expensive and should cost about $500-1,000. If market research and users need to be acquired before launch, this cost could go up to around $5,000. 
Stage 2 (Retention) and Stage 3 (Monetization) combined will cost about $20,000-30,000. 
Again, remember that this is just a ballpark estimate. The category of your app and the other factors discussed will affect your bottom line.
Also, please note that this cost is completely separate from app development costs. You'll need to tweak your game based on the results from your testing during soft launch. If you'd like help figuring out development costs, check out this handy app development cost 
We hope you've found this resource helpful. As you can see, it helps to have a dedicated team who will help you navigate through these necessary stages and handle the myriad of details. Feel free to contact us for any app launch needs…we're here to help!
Related Articles
In today's competitive app market, it's crucial for app developers and marketers to reach a wider audience and [...]

WidgetKit was introduced in WWDC22 as a new way to showcase app activity. Anyone who's bought an iPhone [...]