How app funding can help you compete with top apps in the UA growth game
Picture this: you have an amazing app product on the app stores. You've built up momentum by acquiring a quality user base, maintaining solid app user retention numbers and earning steady profit every month. 
Based on your data, you know your app is on to something big…if you could just get that extra capital to invest in user acquisition and skyrocket your growth.
What you need is a trustworthy app funding solution.
In this article, we'll highlight best practices on how to allocate your budget in early app growth phases to get to this point and what your app funding options are when you're ready to step up your UA game.
For an in-depth guide on putting your funding to work, you also download our latest eBook with Braavo Capital: 4 Steps to Supercharge User Acquisition.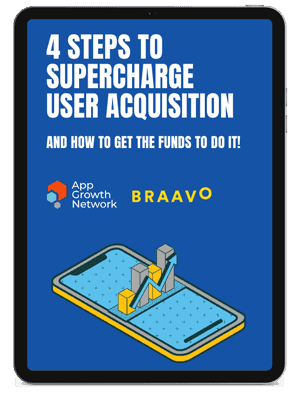 Budget allocation in the early growth phase
After you've made sure that you have a bug-free, technically-sound mobile app product, allocating your budget the right way will make all the difference in your app's long term success. 
Your early growth budget should focus on: 
Demonstrating traction and proving that you're attracting

users

(not just downloads)

Said users are customers that love your product and (ideally) are willing to pay for it 

Turn users to amplifiers by being your app's word-of-mouth brand ambassadors
A big mistake many subscription-based app developers make is getting caught up in the allure of acquiring as many users as possible really quickly. But if you have a leaky lifecycle marketing funnel—or haven't proven value—your money is wasted. One of the biggest challenges of getting from early stage MVP to scale is that retention piece of the puzzle, first by converting users to paying subscribers and then getting those people to renew. 
If it sounds like a chicken and egg situation, it's because it is. You don't want to rush into growth too quickly, but it's also crucial to get a significant app user base made of quality users. The only way to optimize the product for renewal rates is to have enough volume of users to perform tests and do proper segmentation. 
Oftentimes, 5 to 10,000 users is enough to determine how they're flowing through the app user journey and to make statistically-significant decisions based on how the product is performing. 
Marketing strategies for the early app growth phase
Once you can prove you can acquire and retain users who choose to pay for it, you need to start investing in marketing to determine your market fit. 
At this stage, the best app marketing strategies are organic user acquisition methods such as:
App Store Optimization (

ASO

)

Social media marketing via branded accounts on Facebook, Instagram, TikTok, etc.
Unless you have a large budget, jumping into paid UA can get expensive quickly without providing the tactical results you need at this stage. One of the biggest challenges new apps face is lack of data and not measuring against app retention benchmarks to have an understanding of what healthy retention rates are for their industry.
Is your mobile app ready for app funding to boost paid user acquisition efforts?
Depending on your business goals, there are a few business growth funding options to consider—namely equity financing, debt financing and revenue-based funding (RBF). 
If you meet the criteria as mentioned at the start of this article, your best option is RBF. Here's why.
What is RBF?
Revenue-based funding means financing based on future revenue that businesses can get up front today. It's a way to provide funding or financing to companies that are generating revenue that is non-dilutive, meaning that no equity is taken. Funding is allocated based on the likelihood of a company to generate revenue now and in the future. The funding provider collects repayment in the form of pieces of future revenue, as well as some small fee. 
The way to determine the likelihood of a company generating revenue now and in the future is through data. The most common data sources are transactions—how much money a company is generating money and what the likelihood is of them generating money tomorrow. 
More sophisticated forms of RBF rely on more sustained datasets like how effectively a company is acquiring customers, which essentially means that a company is spending money profitably on user acquisition. Also engagement activity data is useful here. Having an app that's benchmarking against high-quality retention metrics for monthly or annual apps gives foresight into the revenue that company will create in the future. 
The benefits of the RBF approach & value of long-term branding investments
If you're investing in paid marketing profitably, the sooner you can get access to more funds, the sooner you can reinvest in growth. The benefit of RBF models is that they can look at UA performance to provide up to two times the amount invested in the previous month. Essentially, you're subsidizing your marketing budget with non-dilutive funds and being profitable on the dollar, allowing you to really supercharge app growth.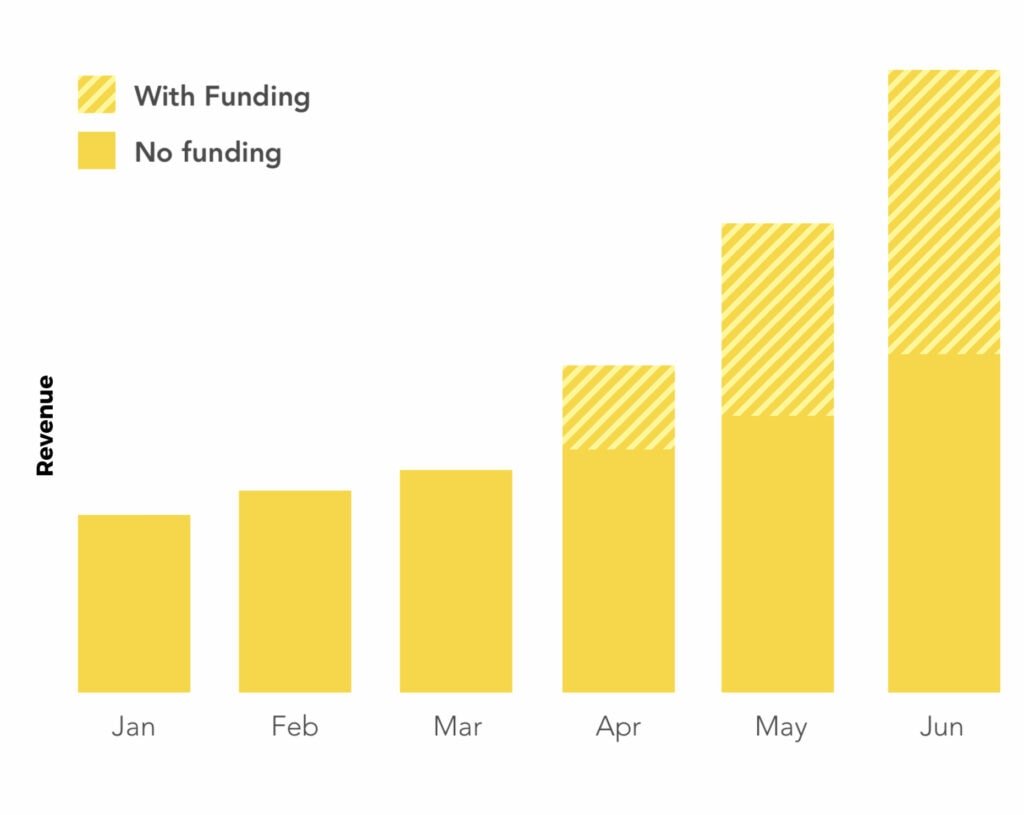 Image source: Braavo
The trick is mastering how to spend money profitably with user acquisition in the mobile industry's current climate. In light of iOS 14 and iOS15 privacy and platform challenges, this is becoming an ever-increasing challenge.
The world of UA and customer acquisition has changed dramatically over the past several years. Long gone are the days when you could launch an app, do basic ASO, buy some ads on Google and be successful. Apps that succeed best at multi-platform strategies are more mature in the marketplace. They've invested in building a brand, which is a long-term investment.
Long term investments aren't just on the marketing side, but on the product side as well. If you can improve your year one renewal rates on annual subscriptions substantially, that's much more valuable investing a few dollars of profit in user acquisition. There needs to be a holistic relationship between marketing and product in order to build a sustainable, healthy business. 
Final Thoughts 
It's important to take app development and app growth steps in the right order. App funding—when it comes to app growth—can be a valuable solution if you've taken the time and effort to get your app product ready for it. This means that you've nailed down an app that people love, that engages and retains its user base effectively, has gained traction with organic user acquisition and has the data to reflect present and future profitability. 
If you're in a place where you can acquire funds and use them to continue growing your business, RBF through a company like Braavo is something to consider. If you feel like you're on track to reaching this point but need app marketing expertise to get you to your final destination, contact our team for a free evaluation.
Related Articles
In today's competitive app market, it's crucial for app developers and marketers to reach a wider audience and [...]

WidgetKit was introduced in WWDC22 as a new way to showcase app activity. Anyone who's bought an iPhone [...]