Holistic Cross Devices Optimization where ASO marries SEO
After 6 years of working on App Store Optimization projects, speaking with a lot of masterminds in the App industry and running experiments on 100+ apps, I finally realized the true success of the organic growth of mobile applications which is only feasible when you look at it from a holistic cross-devices strategy.
The infographic below shows some of these correlations: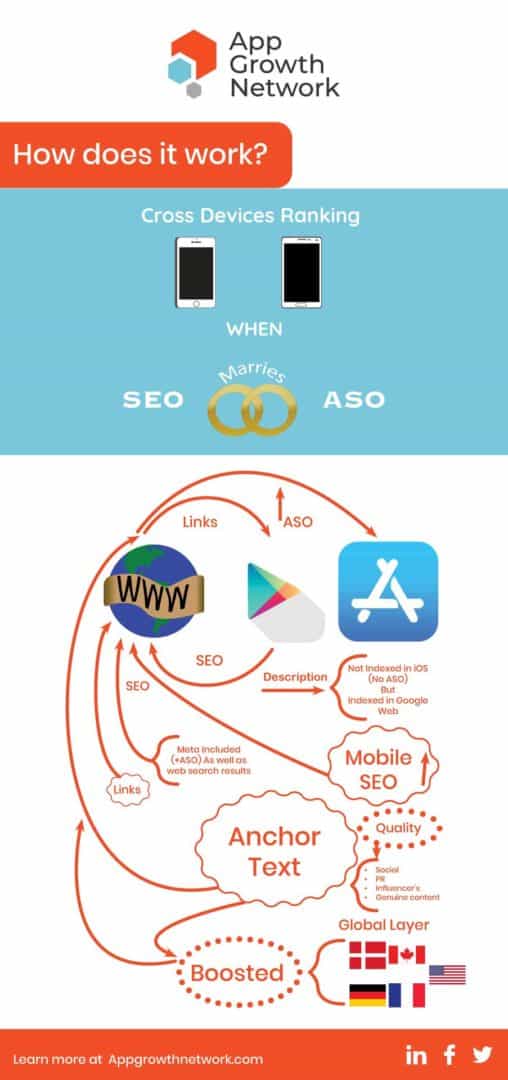 There are 6 major points here:
1. Web, Google Play and iOS have similarities and relationships, yet major differences
Let me tell you how this works. All SEO pros know a page rank depends mainly on the quality of content, clear UX, domain Authority, quality of incoming links and social sharing + a dozen more factors that are not necessary to mention here.
2. Apple is not a Search Engine
Unfortunately, unlike Google, Apple is not a search engine so it doesn't rely on web criteria for any ranking algorithm. Instead, they look at uninstall/install + Reinstall/Install ratios + Download velocity of searched query + App Store Ratings & Reviews + Developer Account strengths + Meta Data to determine the ranking of an app over another one.
3. Google Play adopts Google SEO algorithm
Everything that is part of the iOS Algorithm is also a part of Google play stores Algorithm, but Android is way more sophisticated. The Bundle id, the URL structure, and the offline signals (Link, social, share) are extra elements that toughen up the Android ranking
4. People forget that web search results are important for App visibility
A lot of developers hope that they can play around with keywords, name and basic meta and let the stores take care of it. In some cases this works but in today's day and age, real users dig into mobile web search from their phones or the laptop in front of them and search for : "Your product's critical Task + App" to see what comes up and surprisingly what you see is mostly Apps as top search results such as a lot of itunes.com/XYZ and Play.google.com/XYZ SEO apps for that matter. That is when the right meta tags and a well-chosen description and genuinely shared links come in handy and give you extra bonus downloads. Try this today, search for your favourite products task and App to see if you are there or not. Almost 25% of Apps are found this way or at least there is an attribution element here.
5. Internalization & Global strategy is a must!
Let's face it, all developers out there dream about ranking #1 for popular phrases in the U.S market and dream about being among the top 10 in their genre. They spend so much time optimizing for it and often get up to 85+ as a visibility score but when we look at other markets, we usually see an AVG of 75 or less because they fail to localize & optimize for other Geo's which are often non-English speaking. I get it, it's a lot of work and the product may not even be ready for all of those languages but the chance of ranking in other markets may be easier due to less competition. Did you know that Germany and France combined have a population of 145 M which is 45% of the U.S population and they are among one of the highest grossing countries? How about Scandinavian countries? Although lower in population, the App Store performance and willingness to spend is above the rest of Europe on Average so do not ignore that.
6. The Value of Anchor texts is undeniable
We are not talking about keyword stuffing or black-hat link building, which is banned by Google. We are talking about genuine content that is created around a topic or phrase in various languages and has the relevant anchor text from the local domain landing to your site or the Google play page — (not so much relevant for iOS) , if this is shared with the right social groups of people and not only gets a quality back-link but also generates a search demand in the App Store for that phrase, it will definitely boost the ASO and SEO for that phrase so a well planned strategy works! Try a link explorer tool and crawl your competitor's back-link today, there will be lots of surprises!
Conclusion:
In Summary, we highly recommend that App developers think about ASO from a bigger picture and not only rely on their store meta updates. Also, they should get out of their comfort zone by exploring the cross devices strategy. Whether a mobile-first only company, web & mobile subscription business or even using Apps as companion products remember that today's customer will look you up on cross-platform devices. My last piece of advice is having a global presence and which will result in traction from various markets.
Related Articles
In today's competitive app market, it's crucial for app developers and marketers to reach a wider audience and [...]

WidgetKit was introduced in WWDC22 as a new way to showcase app activity. Anyone who's bought an iPhone [...]