Coronavirus Impact on the App Industry (Webinar Highlights)
The quarantine and social distancing phenomena of the last several months has more consumers than ever before turning to mobile for, well, pretty much everything. Connecting to friends and family, meeting new people, entertainment, classroom learning, working, staying on top of instant news updates has all moved to the only place that is "safe" – in the virtual world.
Our CEO, Fouad Saeidi and MobileAction's Head of Product, Mustafa Buyukkara, hosted an informative live webinar, "Coronavirus Impact on the App Industry" with attendees from all around the world. Because it was such a success, we wanted to share the presentation highlights along with access to the recording of the full webinar and the webinar presentation slides.
Coronavirus Impact Around the World
The impact of coronavirus impact has been felt worldwide starting with the first news coming from China in December 2019. By January 2020, the spread continued into more Asian countries; by February it caused major infections throughout Italy, Spain, the UK and Iran; and by April, the effect was global.
So perhaps it's easily explained why "coronavirus" has been trending a trending keyword in app stores since January. In just 2 months, its popularity score increased from 26 to 65. For the word "corona," Medical apps (30%) and Health & Fitness (13%) apps got the most share, while "virus" share went mostly to the Gaming category.

Now we'll dive deeper into 7 key app categories: Travel, Medical, Food & Drink & Shopping, Education, Social Networking, Business and Gaming.
Coronavirus Impact on the Travel Category
With a ban on travel and going out in general, the travel industry was one of the most negatively impacted industries. We take a look at 2 major apps, Uber and Air China, as examples.
Uber is by far one of the most used apps in the travel category; it even held on to its #1 or #2 ranking despite the news of the outbreak. But after President Trump declared a national emergency on March 13th, Uber's rank dropped to as low as #343, as seen in the graph below.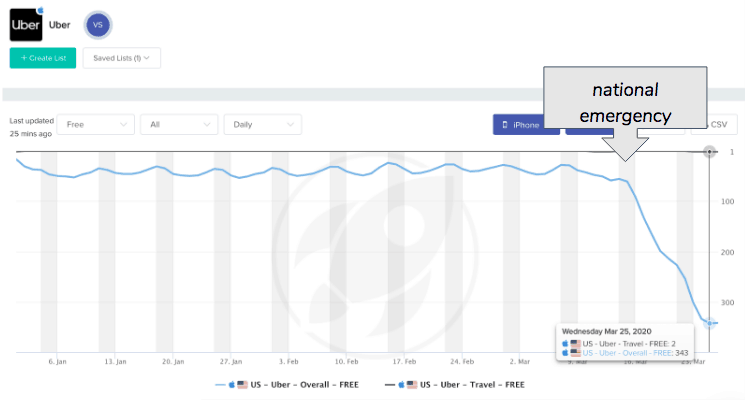 For Air China, China's largest airline, the app starts seeing decreases in early January. After January 29th, after the Trump administration restricted travel from China, Air China's drop doubled.
Coronavirus Impact on the Medical Category
We see a spike in the downloads of medical apps like Babylon, a Canadian-based app. There's a spike in downloads in China on January 25th (when Wuhan was closed off by Chinese authorities) and another spike coming from Canada on March 21st. The timing of these spikes coincides with the prevalence of the virus – and fewer people having ready-available in-person doctor's visits – in these parts of the world.
Coronavirus Impact on the Food & Drink and Shopping Categories
The shift in mobile app activity in these categories can be explained by the fact that many locales were forced to shut down regular service. Gone were the days of people going to their local Starbucks to hang out, meet up with a friend for coffee, or work on their laptops for a few hours. In a time defined by social distancing, delivery and pick-up services become much more useful.
As such, we see that Starbucks' position dropped from 25th to 229th in a 10-day period in March. Whereas apps that offer grocery delivery and pick-up service, like Instacart (shown in graph below), jumped from 563rd to 66th in overall app rankings and 18th to 2nd in the shopping category.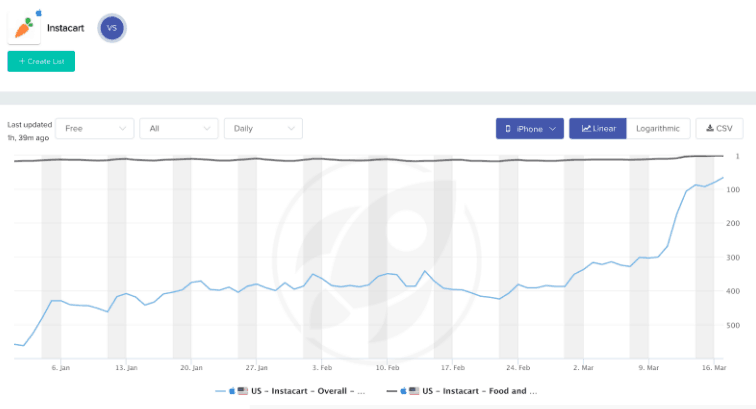 Coronavirus Impact on the Education Category
As schools began closing around the world and all classroom learning moved online, this category sees big players rising to the top quickly.
Google Classroom is the #1 app in the education category making a jump from #315 to #5 in overall app rankings in a short span of 10 days in late March.
In South Korea, where schools have been closed since late February, downloads skyrocketed by early March (illustrated in graph below).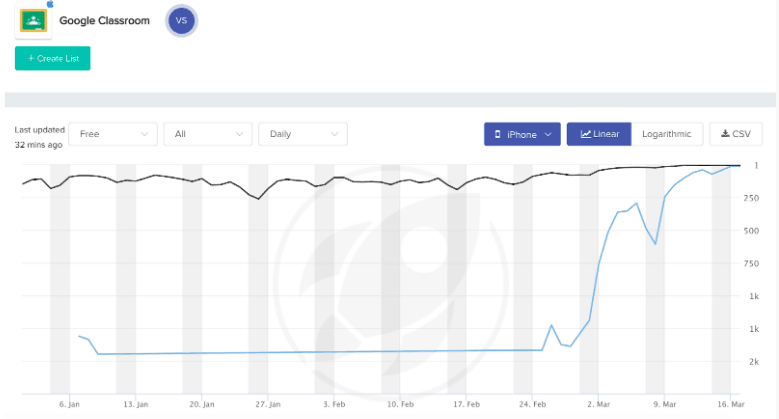 In Italy, another country where coronavirus hit hardest, we see that Google Classroom's rankings surged after February 23rd (Italy had its first case on February 20th), becoming #1 in the education category and #3 overall.
Other children's education apps, like Lingo Kids language app, see a sharp increase in the US after March 14th, the date of the national emergency declaration.
Coronavirus Impact on the Social Networking Category
Interesting new players make an appearance here as groups find new ways to chat and interact with friends and family. People turn to new platforms to facilitate "social distancing happy hours" and "virtual family dinners."
One such example is the unacclaimed group chat app, Houseparty. In Italy, this formerly unknown contender jumps from 1,492nd overall to 1st in both social networking and overall, as can be seen in the graph below.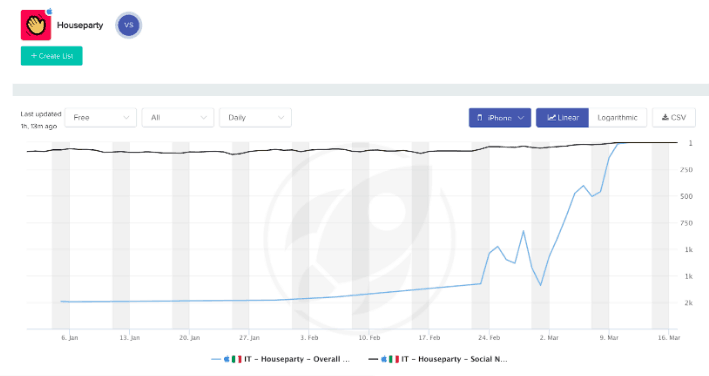 For the dating scene, social distancing means that people are staying at home with no intention (and with no opportunity) of meeting new people. Dating apps mitigate this by encouraging messaging and maintaining relationships that can be met in person later. Some apps, like Bumble, are even making some features free to retain users.
Coronavirus Impact on the Business Category
Apps that facilitate remote working skyrocket as employers increasingly require employees to work from home to ensure public safety. Apps that support work from home continue trending in both App Store and Google Trends.
Zoom and Slack are in the top 10 most downloaded apps with Zoom leading the pack. In Italy, Zoom was #869 in overall app rankings and #12 in the business category. By March 17th, it became # 1 in business and # 2 overall.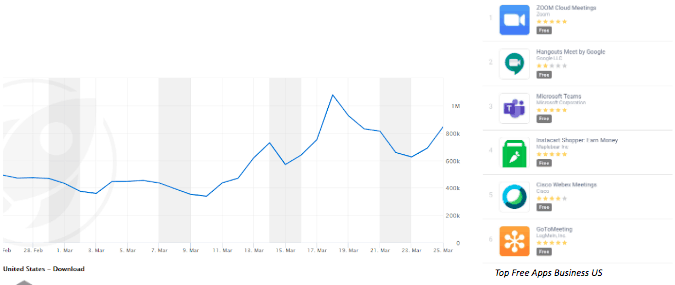 Meanwhile, Slack saw a 100% increase in both the US and Italy in a span of 3 weeks. Remote project management app, Asana, more than quadrupled its downloads in Spain. And job search apps, like Wavely – that allow for chatting with hiring managers online – are also growing in popularity.
Coronavirus Impact on the Games & Entertainment and News Categories
In gaming, there are no significant trend drivers; games that already had a large user base see a decent increase in daily active users. Top-grossing games are Battle Royale and classic casual games, much like before. Any games with a coronavirus theme have been banned, but infection spreading-themed games see an uptick (exception in China).
With this increase in active users, gaming apps have a great opportunity to test engagement strategies, provide offerings to users and make sure users are retained.
Similarly, in the entertainment category, app downloads don't show any particular trend. What we do see is that some key players, like Netflix, show an increased user base. This may be because many users already had Netflix installed but, with less out-of-home entertainment options, they're using its services much more.
News apps, however, are in high demand. This makes sense given the ever-changing nature of the global pandemic and people wanting to stay informed of the latest updates locally and around the world. CNN saw a sharp 2000% increase in daily downloads in mid-March. Even smaller, less-known apps like News Break or Quick News – that provide a more personalized news feed – felt a bump.

So, what's next?
No one can say for certain. We expect the data and trends will continue changing and shifting as the pandemic itself changes. We can't promise to know what will happen – as no one can – but we can promise to stay on top of the latest industry trends and do the best for all of our existing and future clients.
If you'd like to see how your app is faring during these difficult times or need assistance marketing your product, please contact us for a free app evaluation. We're here to help.
Stay healthy and safe, everyone.
Related Articles
In today's competitive app market, it's crucial for app developers and marketers to reach a wider audience and [...]

WidgetKit was introduced in WWDC22 as a new way to showcase app activity. Anyone who's bought an iPhone [...]