5 Low/No Cost Ways To Get App Downloads
Building an app takes money. Marketing your app so that people know your app exists and getting them to download it takes money – but does it really have to be that much? In an ideal world, your ideal app marketing mix consists of 3 parts: paid media, earned media, and owned media. And they break down into something that looks like this: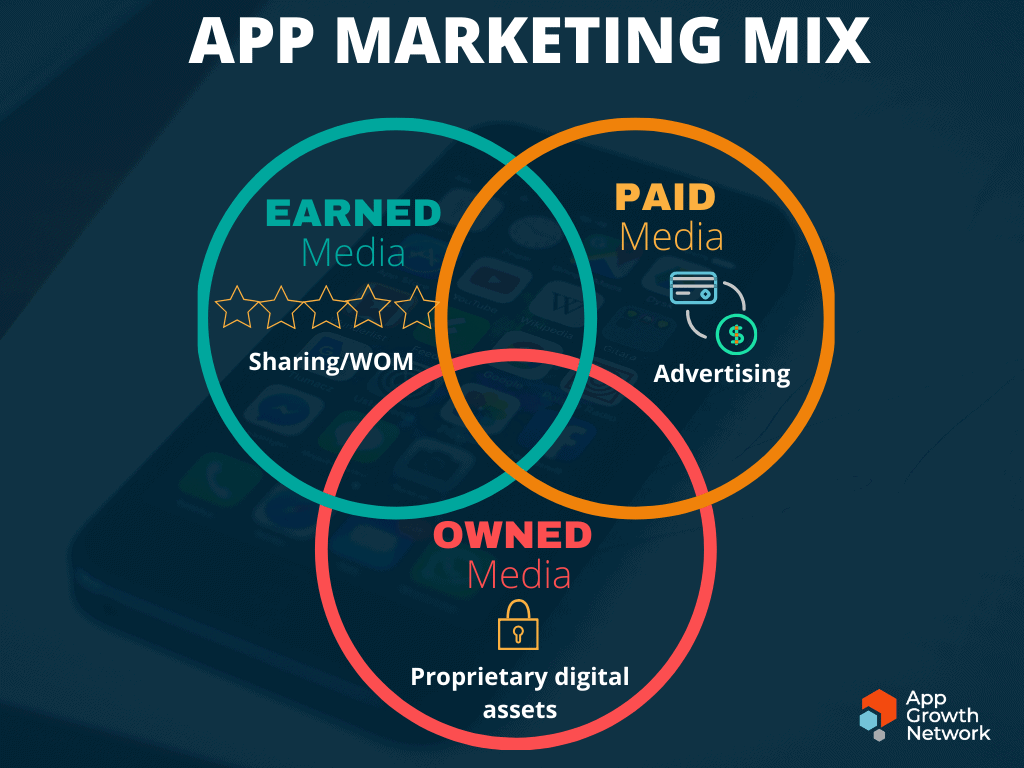 Again, speaking in ideal terms, your app marketing game is strong in all three areas. This means that you have a large enough marketing budget to pump money into paid media to get things going until your app is one finely-tuned, money-making machine.
But, this isn't an ideal world.
Especially considering the recent events we have been facing as a global community – most notably COVID-19 – our less-than-ideal world is facing social, financial and economic issues unlike any we've ever seen. And if you're trying to launch an app or grow an existing app, budgets are tight – whether you're an appreneur or an established company.
When times are tough and you find yourself low on funds, does that mean you should give up on your dreams of app success? Most certainly not!
What you need is to switch gears and get creative about how to reach your user acquisition goals at a low cost. Focus not on what you don't have (money for advertising) but what you do have (your own digital assets), aka your owned media.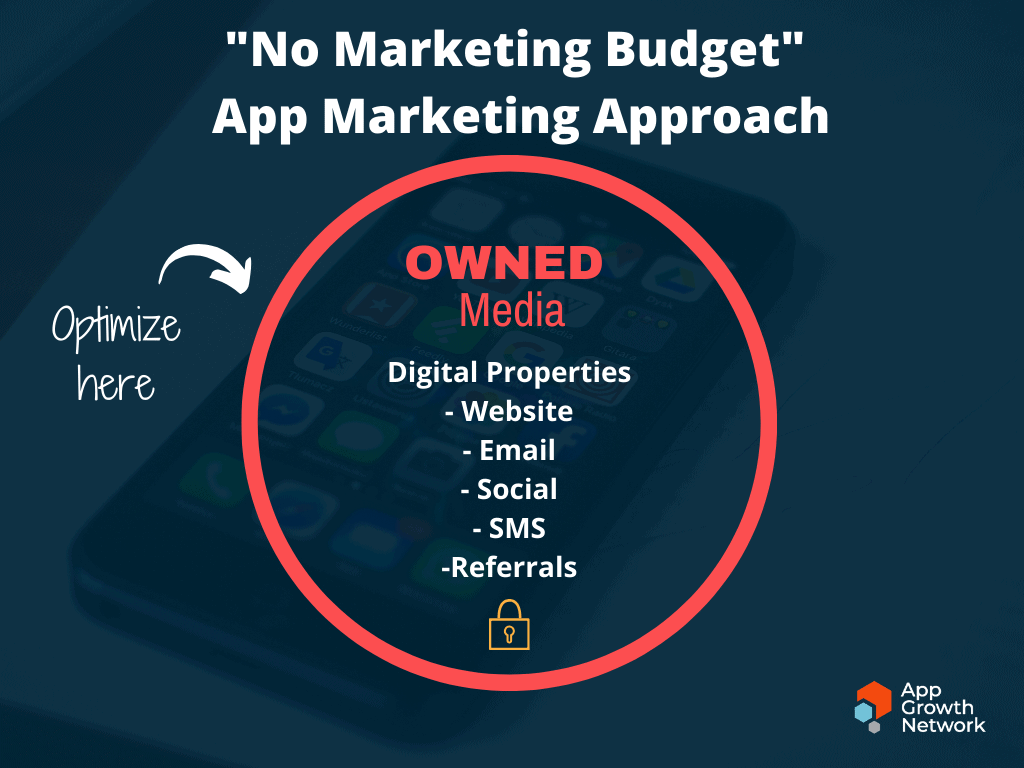 AppsFlyer has recently launched an amazing new framework called "Zero" which offers free, state of the art software tools and APIs, to empower brands to leverage their earned and owned media strategies. Be sure to check out their offerings!
Now let's dive into detail about owned media and how to make it into an app install powerhouse!
What you'll learn in this article
1. Use website traffic to drive app downloads
When it comes to users' discovery of new brands, 90% of users report that this happens on the web. But when it comes to actual mobile revenue, 70% happens in apps. What does this mean? Your ticket to increasing app downloads is by attracting potential users through a creative, well-designed and strongly optimized website and then smoothly routing these interested visitors to your app.
You want to make sure you have a well-designed, user-friendly website. It doesn't have to be fancy, but it should look professional. If you don't have the in-house resources to do this, you can shop around for a web development agency within your scope and budget on an agency directory site like Design Rush.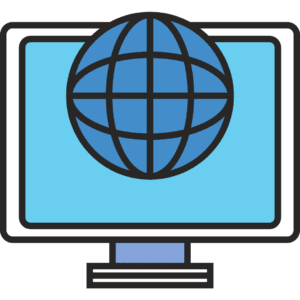 One way to faciliate web-to-app traffic rerouting is by displaying app download banners on the main landing pages of your site – like the home page and key product pages. Banners can be customized with ratings and an "install" link that makes it easy for the web user to download your app.
There are other methods like an embedded widget with app store buttons or, for desktop users, a "text me a link" or "scan a QR code" can be used. Whatever method you choose, the most important part is making the journey from the website to your app store page as easy and seamless as possible for the user.
2. Leverage email communication to encourage app installs
Email has been and continues to be our top form of communication. In the US, 9 out of 10 internet users use email and claim that it's their preferred way of receiving communications from brands.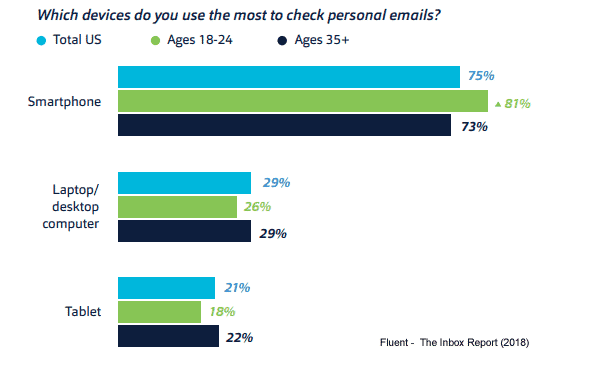 Not only that but research by Fluent shows that 75% of the US uses their smartphone to check emails. That's a pretty awesome opportunity to get people to your app seamlessly – while they're already on their phones.
As a brand, use email to provide useful information that a reader will find helpful. Whether it's special offers, important user-enhancing updates, or sharing how-to's – be sure that the content addresses what your customer wants to know, not what you want them to know. Of course, be sure to make it easy for them to download your app and creatively inform them of how installing your app will improve their user experience. 
3. Use your social media channels to boost app awareness

There are 3.8 billion active social media users (up 9% from last year), representing a 49% penetration. There are a lot of people on social media. Social media channels are increasingly becoming a tool that consumers use to research and discover new brands. For young people aged 16-64, social has overtaken web search engines as the most used method for product research.
This isn't about buying ads on social media – as we're talking here about a zero-budget marketing approach. Use your existing social media accounts to attract, engage, and inform your current followers and provide a reason (plus an easy path) for them to take the next step to download your app. Encourage commenting and sharing with friends to broaden your reach even more.
4. Engage via SMS to encourage app downloads and sharing
As it turns out, consumers do want to receive text messages from brands – after opting in, of course. SMS enjoys a massive 98% open rate with 90% of messages being read within 3 minutes.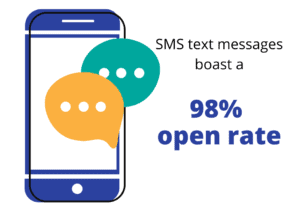 If you have a database of phone numbers, you have the perfect no-cost opportunity to engage with users by offering personalized communication, incentives and offers. Again, since a mobile phone-based channel, it's a smooth journey to get them into the app store to install your app. It's also an easy way for your customers to easily share with friends.
5. Attract new app users with word-of-mouth referrals
When it comes to influencing purchase decisions and consumer action, good ole-fashioned work-of-mouth takes the cake. 74% of consumers identify WOM as a key driver in their purchase selections.
Encouraging referrals from customers that are fans of your product is an effective way to grow your app user base. Given that a referral from a friend or family member inherently has a trust factor built-in, there's also the advantage of having a more receptive app user from the get-go.
Key Takeaways
Whenever possible, do your best to secure an app marketing budget that lets your reap the benefits of a marketing powerhouse that combines the power of owned, earned, and paid media. But when the going gets tough, make your owned media the best it can be to keep things going.
Make sure you have a solid website that makes your app discoverable and easy to get to

Write open-worthy emails that provide value and encourage app downloads

Raise app awareness with engaging posts and content on all your social media channels

Send enticing text messages to drive interested customers to install your app

Harness the power of word-of-mouth to expand your loyal app user base
Related Articles
When it comes to building an outstanding mobile-first advertising strategy, there are several directions you can take. Two [...]

Want to Extend the Life of Your Winning TikTok Creatives? Apply the 80/20 Rule TikTok has become the [...]